Send online - physical delivery for business clients
Use this innovative service to take care of your business mail online. It's easy, swift, and inexpensive. You will save time and trips to the postal branch, while your business partners will still receive their letters, quotes and invoices in the mail as previously.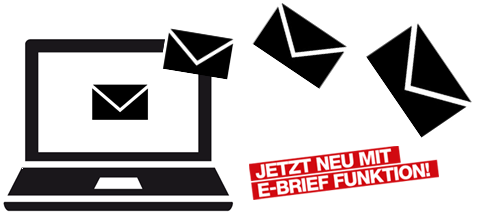 Thanks to the intuitive user interface, our portal is very user friendly and will take you through the posting process step by step. You will create your letter just like you have done in the past using your word processing programme and upload it to www.tages-post.at.
Österreichische Post will take care of everything else for you: from envelope stuffing to affixing postage and shipping. You can even send registered letters from the comfort of your office.
Save postage with our e-letter service
With our e-letter service, your clients will be able to receive invoices, contracts and other important documents swiftly, conveniently and reliably in a digital format - 24 hours a day, 7 days a week.
You will always be using the most inexpensive way of getting your items to your clients and at the same time, you will save time and money. The cost is just EUR 0.34 per letter.
Just upload your letters as PDF documents and the system will automatically and electronically deliver items whose address field matches an e-letter user. All other letters will be handled the traditional way, i.e., they will be printed, put into envelopes, and delivered by mail.
Benefits
Send letters online 24/7
Easy to handle
Also available for registered mail
Contact us
If you have any questions, don't hesitate to e-mail us at tages-post@post.at or call our hotline at 0800 2088 23.