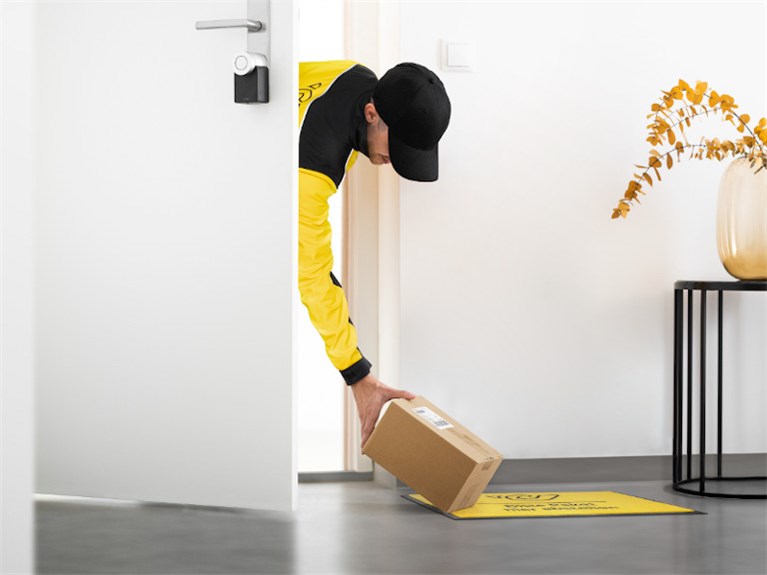 In-home delivery
Your parcel will be waiting for you
in your home!
Thank you for your interest. We will e-mail the participants selected by us.
Benefit from our latest service that offers maximum convenience. In collaboration with Nuki Home Solutions GmbH and A1 Telekom Austria AG, we proudly present our most convenient delivery service to date: our in-home delivery for delivery inside your home. Try this service for six months and be among the first 100 persons to use this advanced delivery service with smart home technology.
In-home delivery explained
How the NUKI smart lock works


FAQ in-home delivery
Frequently asked questions
You can apply to participate in the pilot project if you live in Vienna, Upper Austria, or Graz and if you meet the conditions for participation.
The conditions you need to meet are the following:
Your residence has to be in Vienna, Lower Austria, or Graz. If your postcode starts with 1, 2, 3 or 80, you can apply. If you live in these ares but your postcode does not match our criteria, we cannot accept your application.
Your front door needs to be compatible with NUKI Smart Lock (smart door lock). For more information, please see here.
To set up access rights for your local delivery person, we will schedule a meeting for early July 2021. We will notify you about it well in advance. Please make sure that you can be home in the morning in early July.
You need to sign up on post.at before the end of the application deadline and verify your identity. For more information about the identification procedure, please see here.
To deliver items inside your house, our delivery staff must be able to enter your apartment. Please make sure that everybody in your household knows this and agrees. If you have pets that run around freely, make sure they do not have access to the entrance to your home. This will avoid any inconvenience for your pets and our delivery staff.
You need to be 18 years of age or older.
You must be authorised to give our delivery staff access to your delivery address.
We recommend that you apply to participate only if your door has a so-called emergency or risk function. This means that the door can be locked from the outside even if the key is in the lock inside. In that case, you can unlock the door either with the NUKI app or with a traditional door key from the outside.
For additional information, please see our
GTC
.
We will let you know within 2 weeks after the end of the application deadline (23 May 2021) via e-mail if you have been selected as a test person.
Participation is free for all test persons. We will provide all necessary devices free of charge while the pilot project lasts.
To test our in-home delivery, it is absolutely necessary for you to install the NUKI Smart Lock. We will provide this free of charge during the pilot project. If you already have a NUKI Smart Lock, you can easily use it to participate in our pilot project.
Alternatively, you can also use A1 Smart Home products for this test. We will provide these free of charge during the pilot phase. The A1 Smart Home starter kit includes a premium gateway, a multisensor, a door sensor and an indoor camera. For more information, please click here. You will not need an A1 Smart Home subscription to be able to test the A1 Smart Home starter kit.
If you already own A1 Smart Home products or other smart home products that might be useful for our test (e.g., sensors or cameras from a different manufacturer), you can definitely continue using them.
A1 Smart Home makes your home more secury in so many ways. Click here to see the YouTube video.
Depending on whether you are a private person or a business client, the following identity verification options are available:
Private persons
As a private person, you have the option of proving your identity via photo identification or using your mobile phone signature. You can also get your identity verified by our Österreichische Post customer service or at any Österreichische Post service location. For the identity verification process at any Österreichische Post service location, please bring a printout of your registration form.
Business clients
As a business client, you can get your identity verified at any Österreichische Post service location, via the Österreichische Post customer service or by your customer advisor. In addition to a valid picture ID, you will need a registration as a business client in any official register (e.g., excerpt from the company register or from a commercial or association register).
For additional information about the identity verification process, please click here.
Go to all FAQ