Bright and colourful for everyday wear
23.03.2021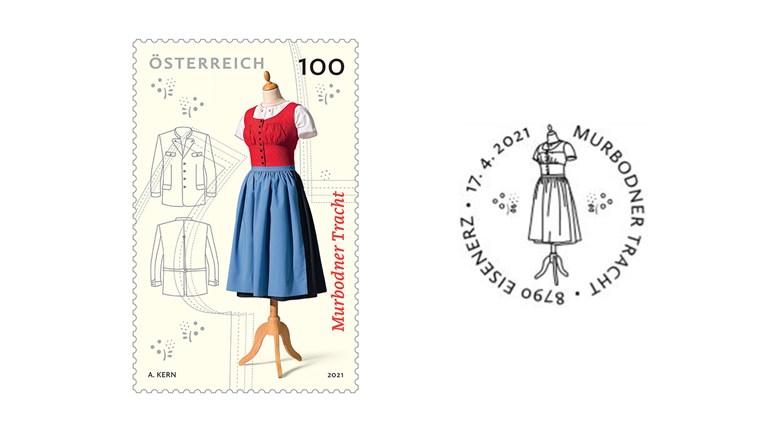 For the popular "Classical traditional costumes" series, this time it is the traditional costume for everyday wear from Murboden in the Upper Styrian Upper Mur Valley that is being presented.

The Murboden dirndl evolved in around 1920/1930 and gradually spread throughout the entire Upper Mur Valley from Predlitz to Leoben. In place of the original high-necked shape of the underbodice, the bodice acquired a lower neckline. The front is divided into three sections: an unusual characteristic is the gathered panel over the chest which is joined to the saddle section by a so-called "Froschgoscherlverzierung", a form of trim based on the shape of a snapdragon, and flows into a yoke. The back, with its rounded neckline, features two dividing seams. The dirndl is fastened at the front with either traditional black buttons (Talarknöpfe) or white mother-of-pearl buttons.

The bodice is made from bright red cotton with a small white or black scattered floral motif, while little white spots or stripes decorate the indigo- or black-printed material from which the calf-length skirt is made. A narrow red border, the so-called "Kittelblech", can be added at the skirt's hem. A plain blue or black apron and a white dirndl blouse with puffed sleeves or a blouse in the style known as a Schnitterhemd complete the everyday costume, which is worn with flat black shoes and white stockings. There is no special costume for men, although to go with the women's everyday costume men sometimes wear the slightly shorter "Zeiringer Röckl" jacket and the traditional leather trousers.
series: Klassische Trachten
value: 1.00 Euro
first day of issue: 17.04.2021
stamp size: 31.80 x 50.00
graphic design: Anita Kern
printing: Joh. Enschedé Stamps B. V.
offset printing
quantity: 340,000 stamps on mini sheets of 10 stamps