2021 is the "European Year of Rail"
21.07.2021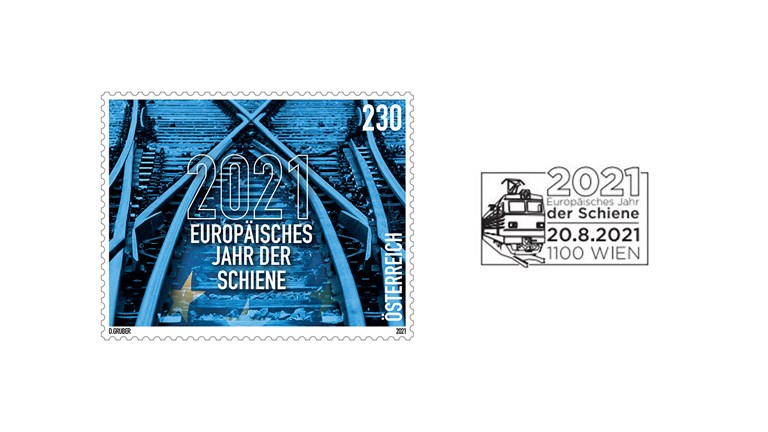 The commemorative stamp shows a section of a rail switch. The blue coloring represents the flag of the EU, whose stars stand out in the lower part of the value. Rail is a sustainable and safe means of transport. As such, it makes an important contribution to achieving the Green Deal target of making Europe climate-neutral by 2050. While transport is responsible for 25 percent of greenhouse gas emissions, rail transport accounts for only 0.5 per-cent. To highlight the importance of rail transport for climate protection, the European Commission has declared 2021 the "European Year of Rail".
This year, events, projects and initiatives will strengthen rail transport as an innovative and safe mode of transport and make it more attractive. Its importance for European culture and sustainable tourism will also be highlighted. 2021 will also be the first year in which the "4th Railway Package" will be fully implemented. This is an important step towards an efficient, cross-border European rail network.
The commemorative stamp with a face value of EUR 2.30 will be issued in an edition of 200,000 stamps in sheets of 50. From 20 August, the value will be available at all post offices, at post.at/onlineshop and from Österreichische Post AG's collector service.
value: 2.30 Euro
first day of issue: 20.08.2021
stamp size: 42.00 x 33.35 mm
graphic design: David Gruber
printing: Joh. Enschedé Stamps B. V.
offset printing
quantity: 200,000 stamps on sheets of 50 stamps