Benedetto Gennari – Theseus with the Daughters of Minos
02.02.2021
Mythology in art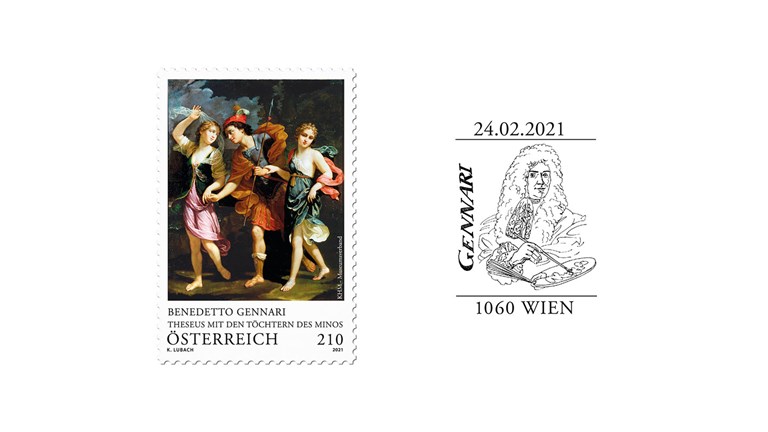 This year's stamp from the "Old masters" series, embellished with engraving, shows a painting by the Italian Baroque artist Benedetto Gennari from the Kunsthistorisches Museum in Vienna.
Benedetto Gennari the Younger (1633–1715) came from a family of painters in the northern Italian town of Cento. He studied under his uncle Giovanni Francesco Barbieri, otherwise known as Il Guercino, originally being heavily influenced by the latter's style, and took over the studio after his uncle's death. In 1672 he went to Paris, to the court of Louis XIV, later moving on to the English court. In 1689 he followed the English king James II into exile in France. Three years later he returned to Italy, where he was one of the co-founders of the Academia Clementina, which later became the Pinacoteca Nazionale di Bologna, the National Art Gallery of Bologna. He died in 1715 in Bologna.
His work included portraits and religious and mythological scenes. The subject of the special stamp is a painting from the year 1702 depicting Theseus, a well-known hero from Greek mythology. Theseus defeated the Minotaur, a creature with the body of a man and the head of a bull, on Crete. Ariadne, one of the daughters of King Minos, helped him to find his way back out of the Minotaur's labyrinth. She then left Crete together with Theseus and her sister Phaedra. The painting impresses with its vibrant colours, the strong contrast between light and dark and the animated portrayal.

Benedetto Gennari – Theseus with the Daughters of Minos

series: Alte Meister
value: 2.10 Euro
first day of issue: 24.02.2021
stamp size: 34.50 x 50.00 mm
graphic design: Kirsten Lubach
printing: Joh. Enschedé Stamps B. V.
combination printing
quantity: 145,000 stamps on sheets of 50 stamps