Postcards from all over the world with "Postcrossing"
06.07.2021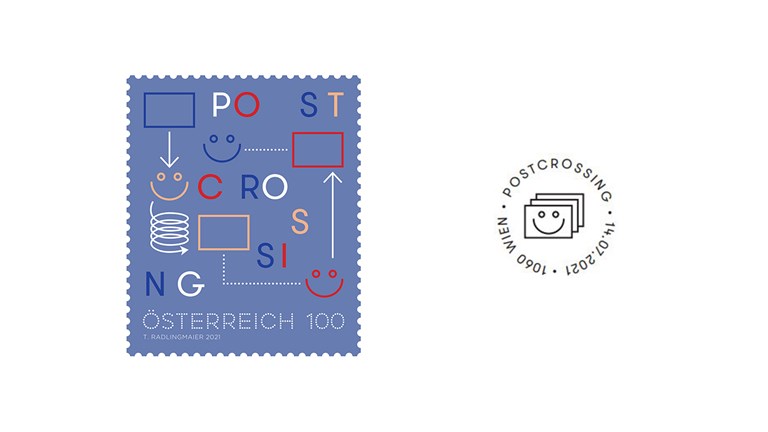 The internet platform Postcrossing connects people worldwide through postcards. The design, created by Theresa Radlingmaier, shows stylized postcards and the happy faces of those who receive them.
Portuguese Paulo Magalhães founded "Postcrossing" in 2005 with the aim of connecting people worldwide through postcards. Anyone who registers on the online platform is sent a random address of another member. People then send a postcard to this address. As soon as the other member has received the postcard and entered it in the system, you can receive postcards yourself. The more postcards you send, the more you can receive.
In Austria, thousands of people are also already registered on Postcrossing, and worldwide over 800,000 people from more than 200 countries use the platform. By May 2021, a total of over 60 million postcards had been sent and so the plan to motivate people to write postcards and connect them in this way has worked out.
The commemorative stamp "Postcrossing 2021" with a face value of EUR 1.00 will be issued starting July 14 with a circulation of 165,000 stamps in sheets of 50. It will be available at all post offices, at post.at/onlineshop and at the Collector Service of Austrian Post.
value: 1.00 Euro
first day of issue: 14.07.2021
stamp size: 30.00 x 36.00
graphic design: Theresa Radlingmaier
printing: Joh. Enschedé Stamps B. V.
offset printing
quantity: 165,000 stamps on sheets of 50 stamps