Austrian Film Museum: Love for film and a mythical creature
18.02.2022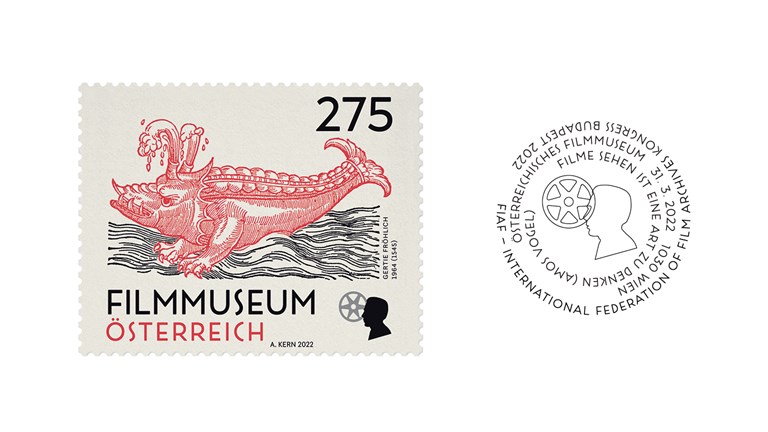 In 1964, Peter Konlechner and Peter Kubelka founded the Austrian Film Museum as a cinema, research and education institution as well as a space for collecting, archiving, and restoring old films.

The commemorative stamp features the iconic logo of the Austrian Film Museum, the mythical creature "Zyphius". Gertie Fröhlich had seen this fantasy animal in a historical publication and thought that an animal that can live both on land and in the water would be a fitting symbol for the Film Museum, which she hoped would never go under.

Gertie Fröhlich (1930–2020) studied painting at the Academy of Fine Arts and stage design, costume design, and typography at the Max Reinhard Drama School. In 1954, she encouraged Monseigneur Otto Mauer to establish the St. Stephan Gallery. She not only created numerous posters for the Film Museum, but also many graphic designs for magazines, drawings, and watercolours.

In the spring of 2022, the Austrian Film Museum will be showing a large retrospective of the work of director Michael Haneke on the occasion of his 80th birthday.
Value: 2.75 Euro
First day of issue: 31.03.2022
Stamp size: 40.00 x 32.50 mm
Graphic design: Anita Kern
Printing: Joh. Enschedé Stamps B. V.
offset printing
Quantity: 200,000 stamps on sheets of 50 stamps