Postage stamps 1899
03.03.2021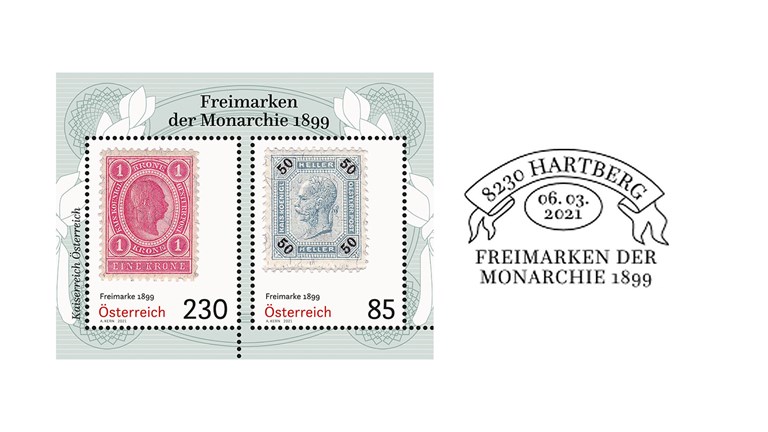 A new currency
The new "Stamps from the monarchy" series opens with the stamps which were issued in 1899 as a result of the changeover to the new currency and were therefore the first to be issued with denominations in Heller and Kronen.

In 1892 the currency for Austria-Hungary changed from the silver-coated Gulden to a gold-standard currency, the Krone. 2 Kronen were equivalent to 1 Gulden and 1 Kreuzer was likewise replaced by 2 Heller. From 1st January 1900 only Krone and Heller remained legal tender. This meant that new stamps were needed, these being issued on 1st December 1899 and remaining valid until 31st October 1908. The old Gulden and Kreuzer denominations could still be used until the end of September 1900, and it was not uncommon to find combinations of stamps in both currencies being franked. The introduction of the Krone and Heller stamps was accompanied by increased postal rates. For example the rate for a postcard was raised from 2 Kreuzer to 5 Heller, which also meant the denominations for the new stamps had to be changed.

Featuring the portrait of the emperor in an oval or octagonal frame, the stamps of 1899 largely resembled the last Gulden and Kreuzer denominations. On the Kronen stamps the emperor's head is turned to the right, as before; on the Heller stamps, to the left. The 1, 2 and 4 Kronen stamps were printed using intaglio printing, while the Heller stamps, with their denominations in black, were printed in two steps. The stamps were printed on granite paper with neither a watermark nor varnish bars.
series: Freimarken der Monarchie
value: 3.15 Euro
first day of issue: 06.03.2021
stamp size: 32.00 x 40.00 mm
sheet size: 80.00 x 60.00 mm
graphic design: Anita Kern
printing: Joh. Enschedé Stamps B. V.
offset printing
quantity: 118,000 stamps on sheets of 2 stamps