100 Years of Messe Wien (Vienna International Fair): An important economic factor for the metropolis of Vienna
24.11.2021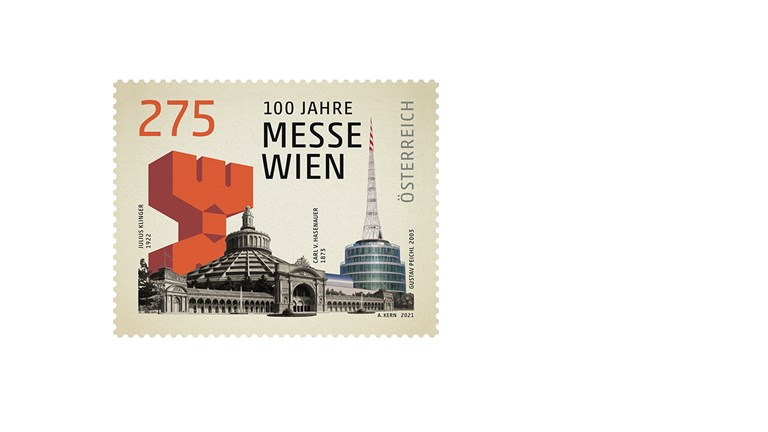 The commemorative stamp shows the poster design by Julius Klinger for the "Vienna International Fair" in 1922, the historic rotunda in the Vienna Prater and the modern fair tower at today's exhibition center.
Vienna established its current status as a world-famous trade fair and congress city as early as 1873, when the Vienna Prater hosted the World's Fair. The focal point was the historic Rotunda, designed by Carl von Hasenauer, which was destroyed by fire in 1937. In 1921, the first "Vienna International Fair" was held, and from then on, spring and autumn fairs were held regularly - except during World War II. This tradition remained until the 1980s, after which trade fairs gradually prevailed.
Gustav Peichl designed the architectural concept of the modern trade fair and congress center. Construction was approved at the turn of the millennium. The new landmark is the Messeturm, built in 2003, with its distinctive spire rising 96 meters into the sky. The central buildings also include the Congress Center and Halls A to D. The trade fair grounds can be reached by the U2 subway line and are located between the Vienna University of Economics and Business Administration, the Krieau trotting track and the Prater Park.
The new commemorative stamp with a face value of 2.75 EUR will be available at all post offices, at post.at/onlineshop and from Österreichische Post AG's Collector Service starting on November 11. It will be issued with a circulation of 200,000 stamps in sheets of 50.
value: 2.75 Euro
first day of issue: 11.11.2021
stamp size: 40.00 x 32.50 mm
graphic design: Anita Kern
printing: Joh. Enschedé Stamps B. V.
offset printing
quantity: circulation of 200,000 stamps in sheets of 50