Idyllic Christmas: A commemorative stamp for the 100th birthday of Bishop Stecher
24.11.2021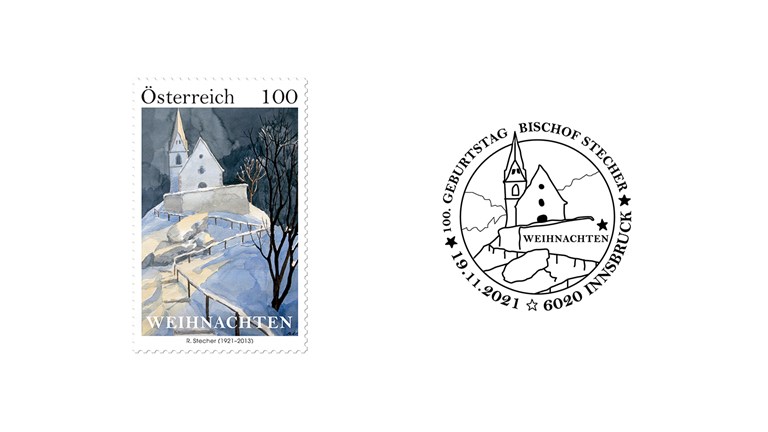 The stamp features an atmospheric watercolor painting by the former Innsbruck bishop and amateur painter Dr. Reinhold Stecher, who died in 2013. The picture shows the church of
St. Margarethen in the municipality of Pfons in Tyrol.

There could hardly be a more fitting tribute: The popular theologian pursued painting as a hobby, and his other great passion was stamp collecting! Since his death in 2013, a stamp depicting one of the bishop's works has appeared every Christmas. The seventh stamp in this tradition also perfectly captures the Christmas spirit and features a motif from his native Tyrol. Picturesquely situated on a snow-covered hill, the late Gothic village church of the municipality of Pfons was first mentioned in documents in 1177.

Bishop Reinhold Stecher spent most of his life in Tyrol, where he also died in 2013. During his lifetime, he was known above all for advocating a climate of tolerance and for creating a culture of helpfulness and mercy. He also spoke out against celibacy.

The value will be issued with a circulation of 1,000,000 stamps in sheets of 50. With a face value of 1.00 EUR, it will be available at all post offices, at post.at/onlineshop and from Österreichische Post AG's Collector Service from 19 November.
value: 1 Euro
first day of issue: 19.11.2021
stamp size: 29.00 x 45.00 mm
graphic design: Marion Füllerer
printing: Joh. Enschedé Stamps B. V.
quantity: circulation of 1,000,000 stamps