Christmas – gingerbread man
18.10.2022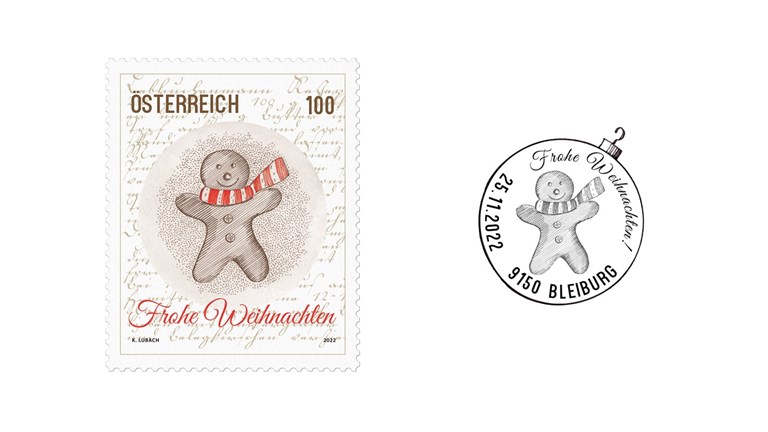 The motif of the Christmas stamp shows the Three Wise Men paying homage to Baby Jesus on a picture from a manuscript in the library of Melk Abbey.
The Benedictine Abbey of Melk with its striking yellow baroque buildings towers picturesquely over the Danube in the Wachau region. The famous Melk Abbey Library houses numerous valuable manuscripts and incunabula, including the Codex 1903, also known as the "Melk Psalter", which consists of 177 parchment sheets and was created in Würzburg around 1255/1260.
The biblical psalms make of the main content of this magnificent manuscript, which is why it is called the "Psalterium". In the "Christ Cycle", five scenes from the New Testament are presented, each with a full-page picture in radiant colours and decorated with gold leaf. Folio 8r shows the Christmas stamp motif, the adoration of the Wise Men. The Christ Child sits on Mary's lap and raises his right hand in blessing.
Value: 1.20 Euro
First day of issue: 18.11.2022
Stamp size: 32.59 x 40.00 mm
Graphic design: Kirsten Lubach
Printing: Cartor Security Printing
offset printing
Quantity: 1.100.000 stamps on sheets of 50 stamps