The rocking horse - the nostalgic toy as a motif for a commemorative Christmas stamp
24.11.2021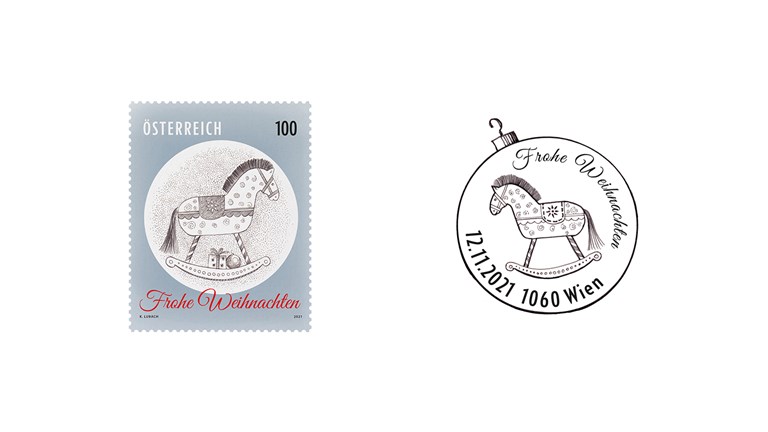 This vintage stamp shows a drawing of a rocking horse, a Christmas ball and a gift. In red letters it wishes "Merry Christmas".

The rocking horse stands as a symbol of toys that have lasted for generations. Already in ancient times, small horses on wheels were used for trailing or mounting. The current runners have been known since about the 17th century. It is believed that they were invented in the USA and came to Europe in the 19th century. Even then, the rocking horse was on many a wish list, but not all children could get one - that's why the rocking horse is also symbolic of unfulfilled dreams.

Traditionally, they are made of wood, but they are also available with plush fur - or not as a horse at all, but as a completely different animal. Even today, they are the ideal toy for children. Not only does a rocking horse stimulate the imagination, it also promotes motor development and trains the sense of balance. And even if it is not a present under the tree this year, the rocking horse will certainly find its way into Christmas rooms as a decorative tree ornament or as a gingerbread motif.

As of November 12, the new stamp with a circulation of 675,000 and a face value of 1.00 EUR will be available on rolls of 50 stamps. It can be found at all post offices, at post.at/onlineshop and at Österreichische Post AG's Collector Service.
value: 1 Euro
first day of issue: 12.11.2021
stamp size: 32.00 x 39.00 mm
graphic design: Kirsten Lubach
printing: Joh. Enschedé Stamps B. V.
quantity: circulation of 675,000