Original felt stamp in the shape of tennis ball in honor of Dominic Thiem
22.10.2021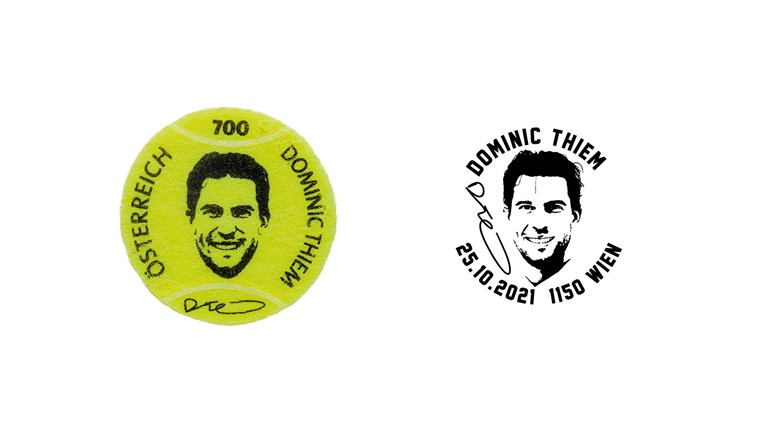 The portrait and signature of Austria's most successful tennis player adorn the circular yellow special stamp made from tennis ball felt.

Grand Slam winner at the US Open in September 2020, Austrian Sportsman of the Year in thesame year, world number 3 and numerous major tournament victories - these are just a few of the highlights in Dominic Thiem's career so far. Austrian Post is now paying tribute to the 1993-born Lower Austrian with a special stamp block in a round shape made of genuine tennis ball felt.

The highly original special stamp is largely handmade and requires a great deal of technical know-how: the base material is manually cut to the appropriate sheet format and screen-printed on a dye-sublimation film. It is then laminated onto the felt and finally cut to the final format using a digital cutter.

The commemorative stamp block will be released on October 25 with a circulation of 150,000 pieces. With a face value of 7.00 EUR, they will be available at all post offices, at post.at/onlineshop and from Österreichische Post AG's Collector Service.
value: 7.00 Euro
first day of issue: 25.10.2021
stamp size: 37mm
graphic design: David Gruber
printing: thermotransfer/ silk-screen printing
quantity: 150,000 pieces