100th anniversary of the Schönbrunn Carriage Museum
22.08.2022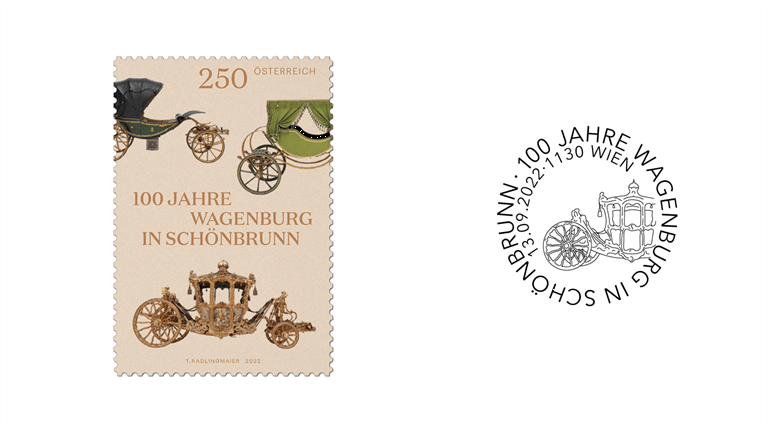 From the streets to the museum: 100 years ago, the imperial fleet of the Habsburg dynasty found a new home in the Winter Riding Hall of Schönbrunn Palace.

Since the 18th century, the Habsburgs' fleet of vehicles had been housed in the court stables, which are now the MuseumsQuartier. After the end of the monarchy, many vehicles were sold; the historic carriages, harnesses, and riding equipment were handed over to Kunsthistorisches Museum and have been on display at the Schönbrunn Imperial Carriage Museum since 1922.

Among others, visitors can admire a gilded imperial carriage from the 18th century as well as the black hearse in which Emperor Francis Joseph, Empress Elisabeth and, most recently in 1989, Empress Zita set out on their last journey. In addition to uniforms and liveries, the costume depot also houses personal items of clothing worn by the imperial family.
Value: 2.50 Euro
First day of issue: 13.09.2022
Stamp size: 29.47 x 45.00 mm
Graphic design: Theresa Radlingmaier
Printing: Cartor Security Printing
offset printing
Quantity: 450,000 stamps on sheets of 50 stamps