90th anniversary of LEGO®
22.08.2022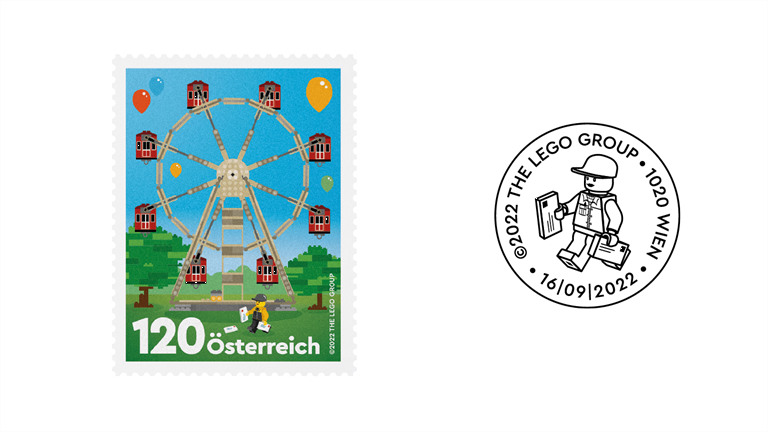 90 years ago, the Danish carpenter Ole Kirk Kristiansen had the idea of producing small toys made of wood. Today, it is hard to imagine any nursery without the colourful LEGO bricks.

In 1958, Kristiansen's son patented the LEGO brick with the interlocking system that we know today. The name is a combination of the Danish words "Leg Godt" ("play well"), and you can definitely play very well with it. Almost any object can be built with LEGO bricks: landscapes, figurines, buildings, and much more; there are no limits to creativity.

Creative building is something that is also associated with the Vienna Ferris wheel. This prompted Österreichische Post and LEGO Group to honour the Viennese landmark with a commemorative stamp in LEGO design – especially since the Ferris wheel is also celebrating its birthday this year (its 125th!).

To mark the occasion, there will also be a special post office next to the Ferris wheel. The stamp was designed by Chris Booth, the associate creative director at LEGO Group's in-house agency. The fact that is it the only manifestation of the LEGO Ferris wheel makes the stamp even more special.
Value: 1.20 Euro
First day of issue: 16.09.2022
Stamp size: 30.00 x 40.00 mm
Graphic design: Chris Booth (The LEGO Agency)
Printing: Cartor Security Printing
offset printing
Quantity: 450,000 stamps on sheets of 10 stamps

© The LEGO Group