The "Beautiful Austria" Series: Historical Buildings and Architecture throughout the country
25.08.2021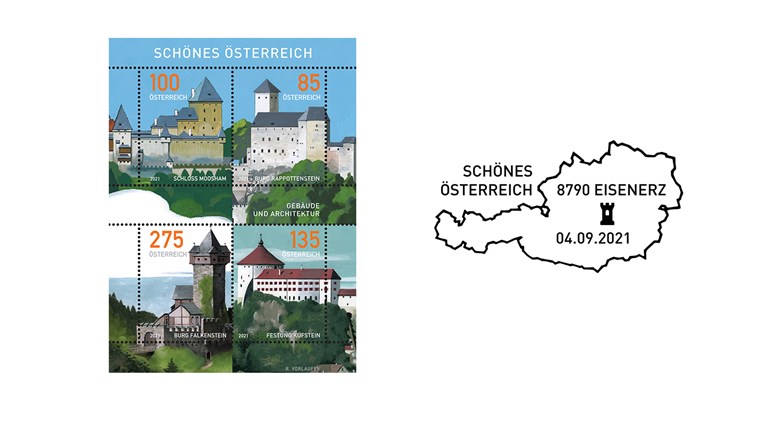 In the graphic style of dispenser stamps, this stamp block of four depicts a small selection of historical buildings in Austria that are worth exploring. Dispenser stamps are not stamps in the classical sense but rather label-type stamps that are directly attached to letters and packages at local post offices. Their distinctive graphic style, however, has become quite popular over the last years and so now, for the first time, classical stamps are issued in this attractive dispenser design.
The castles and palaces depicted in the Buildings and Architecture series, provide a glimpse of Austria's diverse cultural treasures. The journey takes us right across the country: Moosham Castle in the Lungau region, Rappottenstein Castle in the Waldviertel region, Falkenstein Castle in the Mölltal valley of Carinthia, and Kufstein Fortress in Tyrol invite us to take a look at times gone by. Whether restored in historic style or in good original condition, you can admire art treasures and discover many interesting things at these popular excursion destinations.
The special stamp block will be issued on September 4 with a circulation of 140,000 in blocks of 4 stamps. With a face value of 5.95 EUR, they will be available at all post offices, at post.at/onlineshop and from Österreichische Post AG's Collector Service.
series: Schönes Österreich
value: 5.95 Euro
first day of issue: 04.09.2021
stamp size: 33.35 x 42.00 mm
sheet size: 88.00 x 120.00 mm
graphic design: Roland Vorlaufer
printing: Joh. Enschedé Stamps B. V.
offset printing
quantity: 140,000 stamps on sheets of 4 stamps