150th anniversary of the Feldkirch-Schaan-Buchs railway
22.08.2022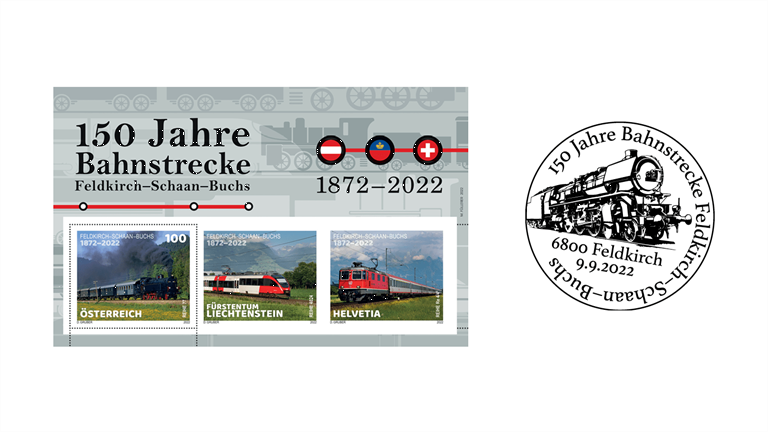 For 150 years, this cross-border railway has connected Austria, Liechtenstein, and Switzerland. The anniversary miniature sheet is a joint issue by these three countries.

The 18.5-kilometre-long single-track line in standard gauge was opened on 24 October 1872. It runs from Feldkirch in Vorarlberg via Schaan-Vaduz in Liechtenstein to Buchs in the Swiss canton of Sankt Gallen. The railway is operated by ÖBB (Austrian Federal Railways) and is the only railway connection in Liechtenstein; the total travel time is about 20 minutes.

The trilateral miniature sheet features a class 77 steam locomotive built in 1927 on the Austrian stamp, the motif for Liechtenstein is a class 4024 TALENT railcar of ÖBB from 2004. Switzerland chose a class Re 4/4II (Re 420) electric locomotive, one of the most common traction unit series in Switzerland, which was built between 1964 and 1985.
Value: 1.00 Euro
First day of issue: 09.09.2022
Stamp size: 36.667 x 30.00 mm
Graphic design: David Gruber / Marion Füllerer
Printing: Gutenberg AG
offset printing
Quantity: 130,000 stamps on mini sheets of 1 stamp