Effective protection
15.09.2021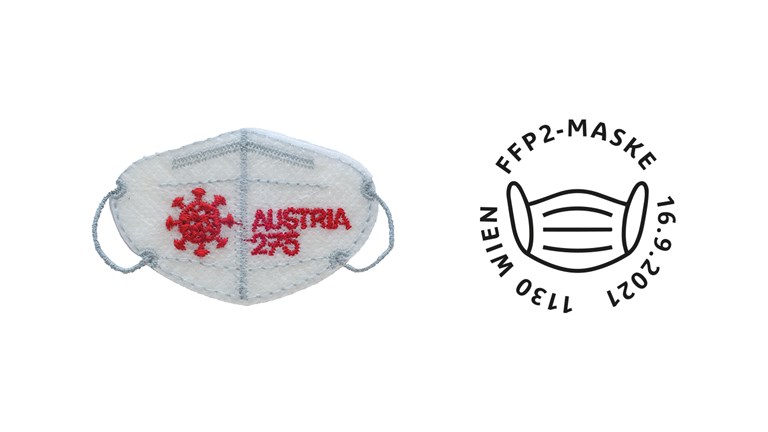 The corona pandemic has occupied the entire world for almost two years – and one of the things that have become indispensably associated with it is the masks that have been part of our daily lives for some time now.

While at the outset simple, often home-made, brightly coloured cloth masks were thought to be enough to protect us against infection, as the number of infections rose in January 2021 the requirement to wear so-called FFP2 masks was introduced for certain situations such as in shops and on public transport. FFP2 masks ("Filtering Face Piece") are particle-filtering half masks which provide greater protection than cloth or surgical masks.

Wearing masks of this type also has a positive side effect: the spread of cold and flu viruses is also suppressed. Even if it is uncertain at this point whether the requirement to wear masks will remain in place and, if so, in what form, this unusual block of stamps should be a light-hearted reminder of how easily we can protect ourselves against infec-tion by wearing a mask.

Hämmerle & Vogel, specialists in embroidery and also in the making of textile stamps, made the stamps from materials produced within Europe for the making of masks: two layers of non-woven material were embroidered in the shape of an FFP2 mask and then cut out using laser technology. The ear loops were likewise stitched and attached in a complex process. The embroidery is used to highlight characteristic details of these masks such as the folds and the nose strip.
value: 2.75 Euro
first day of issue: 16.09.2021
stamp size: 60.00 x 41.00 mm
graphic design: David Gruber
printing: Hämmerle & Vogel / Superpos'eLaser embroidery
quantity: 150,000 stamps on sheets of 1 stamp