Saint Paul initial Codex 26 f. 170r – Heiligenkreuz Abbey
22.08.2022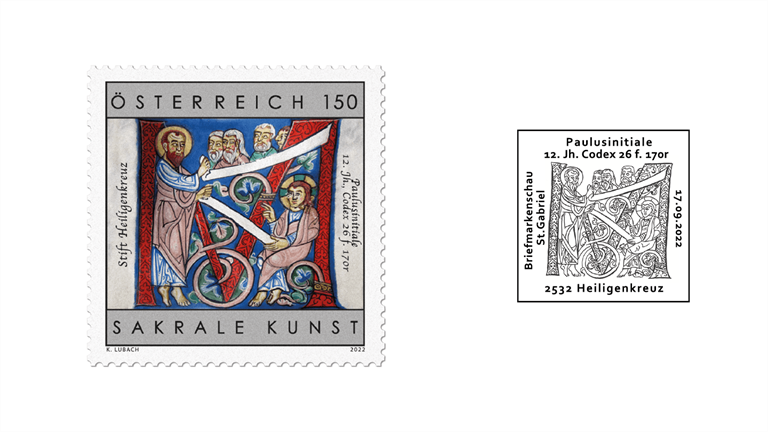 This commemorative stamp features the elaborate initial "M" from Codex 26 on folio 170r (r for "recto" - on the front of the leaf) from the manuscript chamber of Heiligenkreuz Abbey.

Heiligenkreuz Abbey is a Cistercian abbey located in the Vienna Woods, it was founded in 1133 by the Babenberg Margrave Leopold III. The collegiate church stands out for its Romanesque façade. The abbey's library includes 577 valuable handwritten books, many of which date from the first 100 years of the abbey's existence.

The figurative initial executed in opaque colours is from the Bible commentary by Petrus Lombardus. The manuscript was demonstrably produced in Heiligenkreuz Abbey in the third quarter of the 12th century. A list of books at the monastery indicates that it probably had a functional writing room a few years after its foundation, where numerous manuscripts were copied.
Value: 1.50 Euro
First day of issue: 17.09.2022
Stamp size: 35.00 x 35.00 mm
Graphic design: Kirsten Lubach
Printing: Joh. Enschedé Stamps B.V.
offset printing
Quantity: 250,000 stamps on sheets of 50 stamps