Online advertising made easy: create your display advertising campaign in just a few clicks
Our EinfachWerben Banner online advertising service allows you to create your own online campaign in just a few minutes. After only four days, you will be reaching your clients with pinpoint accuracy.
Whether you have previous experience with online advertising or are taking your first steps: EinfachWerben Banner online advertising service makes online advertising easier than ever.

This service allows for full flexibility and lets you design a campaign that fits your needs like a glove.
Your benefits
No agency costs – create your own advertising material yourself in no time
18 different target audiences – which allows you to reach interested parties with pinpoint accuracy
Regional display – throughout Austria or for specific postcodes
Available for any kind of budget – starting at € 250
Guaranteed display – you will know exactly how many ad impressions you will get for your budget
Live reporting – keep an eye on your campaign at all times. 100% transparency.
How to use the EinfachWerben Banner online advertising service
Create your campaign yourself without having to rely on a specialized agency.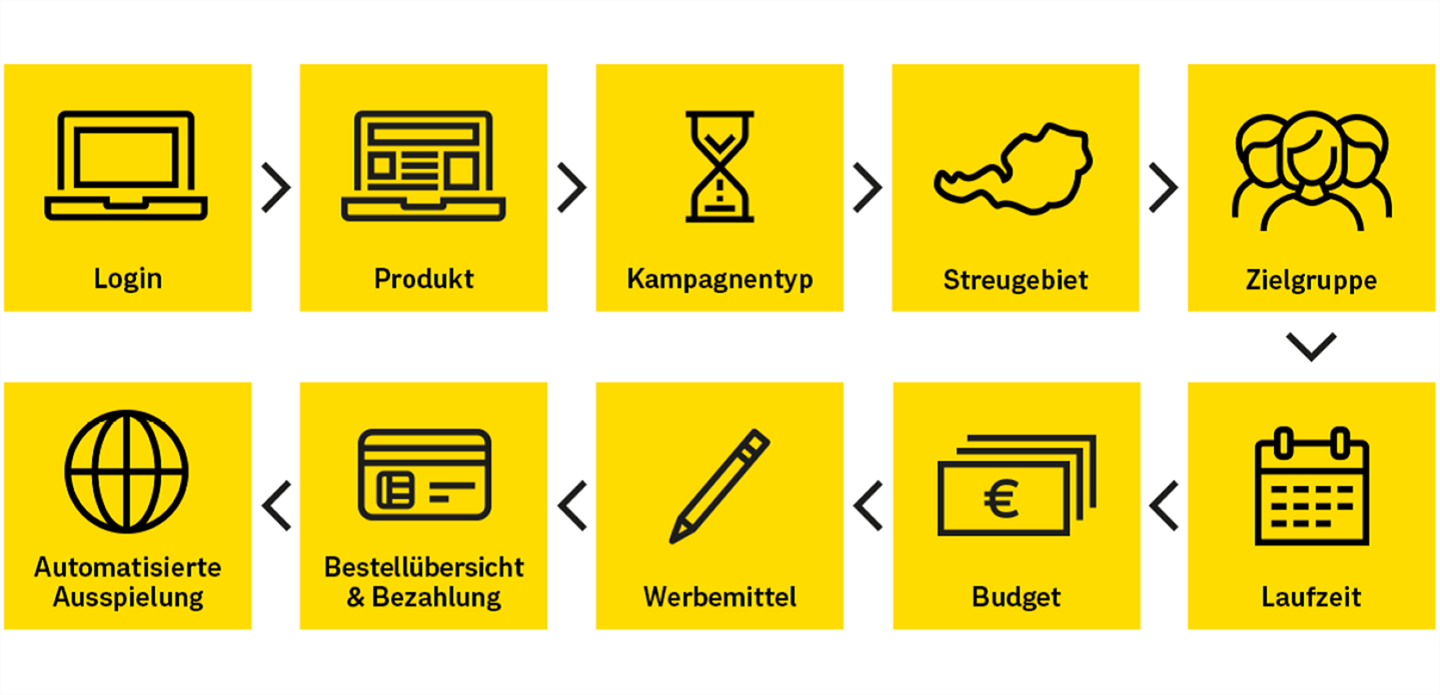 Define your campaign information in just a few steps:

Choose campaign type (short or long-term campaign)
Define distribution area (e.g., provinces or postcodes)
Choose subject-matter environment for your target audience
Select budget and duration

Create a banner set that fits your needs in a breeze. Our display generator will assist you with many different templates and easy-to-use functions. Alternatively, you can also upload existing advertising material and use it for your campaign.
Assign a new or uploaded banner set to your order and complete the order.
Enjoy your new clients!
We will take care of displaying your campaign.
This will save you time and money and you will benefit from short lead times and guaranteed ad impressions.
Programmatic advertising
Our EinfachWerben Banner online advertising service relies on programmatic advertising. This means that your advertising space will be purchased in a fully automated process. All available advertising spaces will be analysed in real time with a focus on the environment and placement and your ads will be shown to your target audience (e.g., people interested in fashion) in the area indicated by you.
Comprehensive reporting
Our reporting tool allows you to track your campaign's performance on an ongoing basis. You can be 100% sure that your money is being used efficiently.


Create campaign!
Contact us
If you have any questions about our EinfachWerben Banner online advertising service, do not hesitate to contact us!