Moving forward into the future
Österreichische Post is a successful corporation and in recent years has expanded and evolved its position as the leading logistics service provider. This was made possible by our effective corporate strategy that allows us to react to changing market requirements swiftly and with pinpoint accuracy.

Let's move forward into the future, with the corporate strategy of Österreichische Post AG. We have identified three main areas: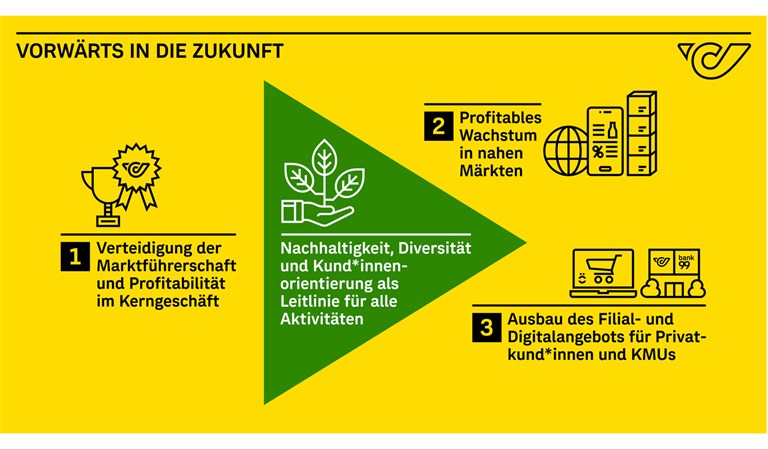 Sustainability master plan 2030
Austrian Post remains ambitious and takes its role as a pioneer seriously. Based on its integrated corporate and sustainability strategy, it has set itself high goals, which are set out in the Sustainability Master Plan 2030.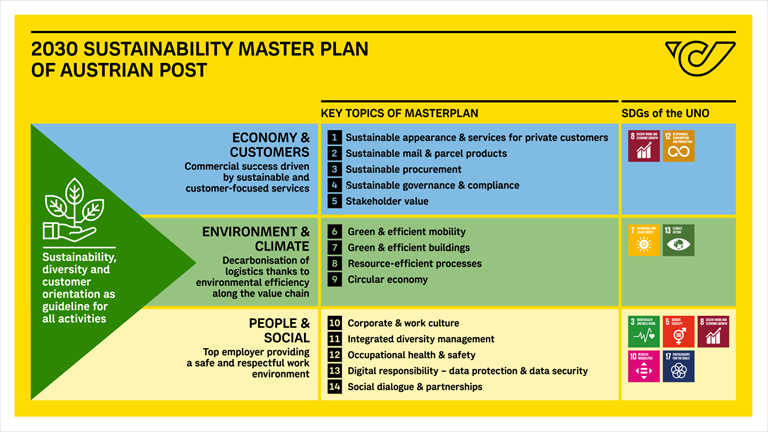 ECONOMY & CLIENTS
Digitalisation, competitive pressure and global trade all shape the market. These trends are big challenges for Österreichicshe Post and for the logistics industry as a whole. At Österreichische Post, we see these developments as an opportunity to improve and evolve.
We are aware of the wishes and expectations of our clients. After all, without this knowledge, no company would be able to offer innovative and customer-oriented services and ultimately be successful in the long run.
Against this background, we focus on flexible delivery concepts that revolve around increased convenience for our clients, service quality, and online solutions. Such services include the Österreichische post app that customers use to redirect parcels and pick them up at a postal branch or receive e-letters, among many other things.
One thing is for certain: nobody is closer to people than we are. With our branch network that leaves no area in Austria uncovered, bank99, our trusted Post partner system and our delivery staff, we have a presence throughout Austria and we stay in touch with our customers. This close relationship allows us to get better on a daily basis. Österreichische Post embodies reliability and trust, whether it's electronically or personally. Always convenient and always sustainable.
Our mission: as close as it gets.
This is how we create personal connections and improve on an ongoing basis. Whether it's elec-tronically of personally, convenience and sustainability are key.

We are yellow.
Yellow is the colour of Österreichische Post and stands for reliability and trust. The colour yellow is also swift, optimistic, forward-looking - just like we are!
We are green.
With our sustainable business model, we proactively work to improve the lives of our employees as well as the environment and society as a whole.
We are colourful.
The diversity of our teams is key for our success, and the same is true for our wide range of products and services and our international business activities.