Anecdotes about stars beloved by the Austrian audience
04.10.2021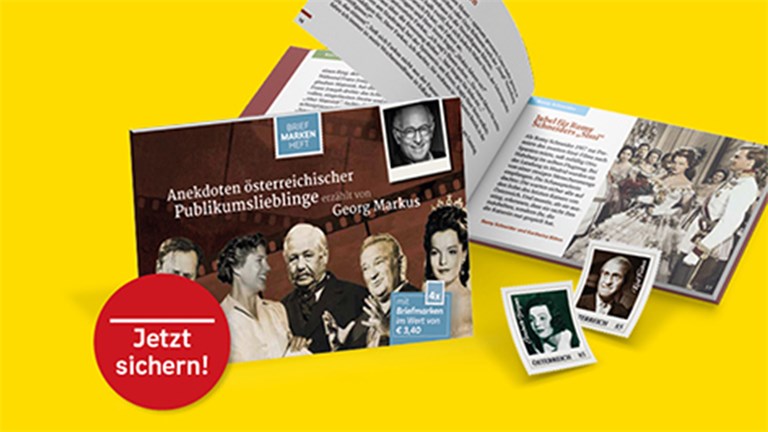 They count among Austria's most popular theatre and film stars: Hans Moser, the Hörbiger family, Karl Farkas, Romy Schneider and Curd Jürgens, to name just a few of the stars about whom Georg Markus tells entertaining anecdotes in this stamp booklet.
It is a well-known fact that Hans Moser, the ever-grumpy actor with the proverbial Viennese heart of gold, was very thrifty. An anecdote about him reveals the extent of his thriftiness. The same is true for the legendary comedian of the equally legendary "Kabarett Simpl" comedy club, Karl Farkas. Hans Moser's congenial partner in many movies was Paul Hörbiger, just think "Hallo Dienstmann". He too is featured in this stamp booklet. Anecdotes about female stars revolve, among others, around the immortal "Sissi" role played by Romy Schneider as well as Katharina Schratt, the close friend of Emperor Francis Joseph. Other anecdotes are about Curd Jürgens, Wal-ther Reyer, and Klaus Maria Brandauer. Georg Markus tells entertaining stories about a total of 17 Austrian stars.

As a young man, Georg Markus briefly worked for the great Karl Farkas. Today, he is a renowned journalist and author of best-selling books about celebrities in the world of history, art, and culture. In 2013, he received the Austrian Cross of Honour for Science and Art, First Class. The legendary journalist Hugo Portisch gave the eulogy. Back then, he said the following: "In his short stories, Georg Markus always add a fable-like touch to historic events, interprets them, and turns them into comedy material." Delve into the world of Austrian theatre and movie stars and have fun with these entertaining stories! This booklet includes four exclusive stamps at a total value of EUR 3.40.