A versatile instrument
23.03.2021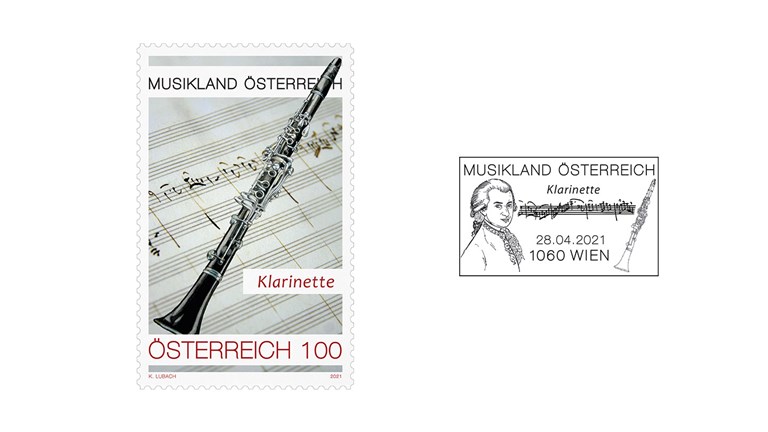 The second issue for the series "Austria, land of music" launched in 2020 is dedicated to a popular and extremely versatile woodwind instrument: the clarinet.

The clarinet was invented in around 1700 by the German instrument maker Johann Christoph Denner. Its range extends over four octaves, making it the biggest of any wind instrument. Usually B-flat or A clarinets are used. It is played using different fingering systems for the holes and keys, mostly either the widespread French system, also known as the Böhm system, or the German system. High-quality clarinets are made of grenadilla wood (African ebony) with the key mechanism usually being made from a silver-plated copper alloy.

The most famous piece for the clarinet is almost certainly Mozart's Clarinet Concerto KV 622, completed by Wolfgang Amadeus Mozart in 1791 and thus one of his last works. Behind the B-flat clarinet with the Böhm fingering system, the miniature sheet features the so-called Winterthur fragment, a manuscript of a draft comprising 199 bars of Concerto KV 622, which is owned by the Rychenberg-Stiftung in Switzerland. Mozart originally wrote the piece for the basset clarinet with an extended lower range, dedicating it to the clarinettist Anton Paul Stadler. Nowadays the piece is usually played on an A or B-flat clarinet, with the particularly low parts being modified accordingly. However, reconstructed basset clarinets are sometimes also used.
series: Musikland Österreich
value: 1.00 Euro
first day of issue: 28.04.2021
stamp size: 31.80 x 50.00
graphic design: Kirsten Lubach
printing: Joh. Enschedé Stamps B. V.
offset printing
quantity: 340,000 stamps on mini sheets of 10 stamps