400th anniversary of the death of Saint Fidelis of Sigmaringen
17.03.2022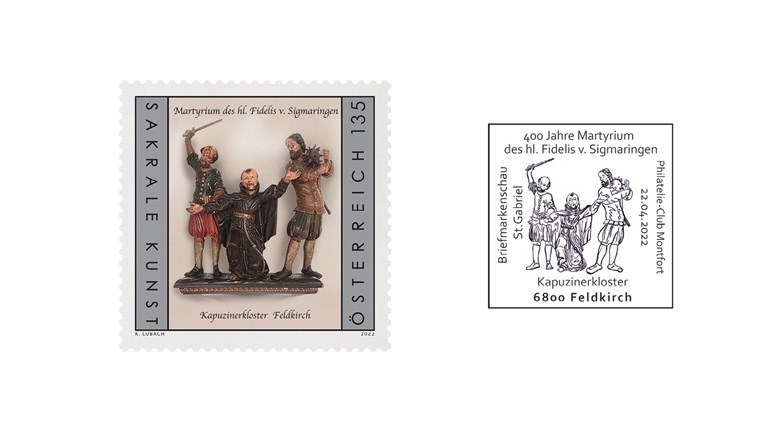 Fidelis of Sigmaringen is particularly revered in Feldkirch, Vorarlberg. He is the city's patron saint and his head relic is kept in the Feldkirch Capuchin monastery.

Fidelis was born in 1578 in Sigmaringen, Germany, and in 1612 joined the Capuchin Order, which is a branch of the Franciscan Order. In 1621, he became guardian of the Feldkirch Capuchin friary founded in 1602. He preached in Switzerland to encourage converts to Calvinism to return to Catholicism. In 1622, he was killed in Seewis, Switzerland, during an armed uprising. Fidelis is considered the first martyr of the Capuchin Order and was canonised in 1746.

The coloured wooden sculpture depicted on the stamp shows peasants attacking the preacher. It probably dates back to the 17th century and is on display in the refectory of the Feldkirch monastery.
Value: 1.35 Euro
First day of issue: 22.04.2022
Stamp size: 35.00 x 35.00 mm
Graphic design: Kirsten Lubach
Printing: Joh. Enschedé Stamps B. V
offset-stitch-printing
Quantity: 150,000 stamps on sheets of 50 stamps