KTM R100
16.01.2023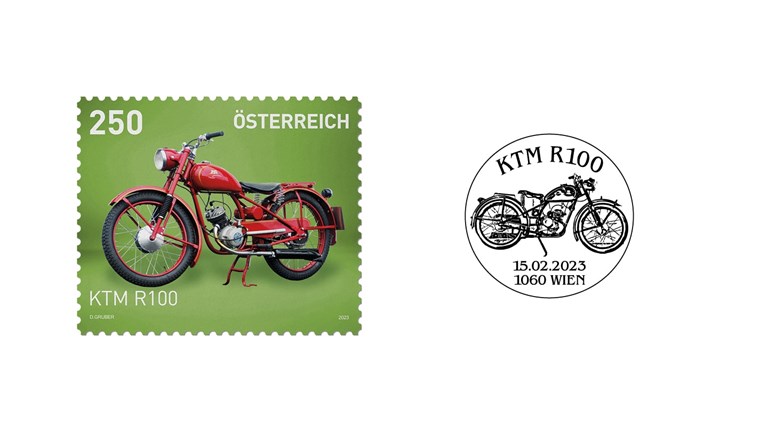 70 years ago, the traditional Upper Austrian company KTM, which was to become Europe's leading motorcycle manufacturer, launched its first own motorcycle.

Hans Trunkenpolz founded a locksmith and car repair shop in Mattighofen in 1934. In 1953, back then still under the company name Moser & Co, he built his first own motorcycle, the R100, also known as Moser-KTM. When Ernst Kronreif joined as a partner, the name KTM stood for "Kronreif & Trunkenpolz Mattighofen", before that it meant "Kraftfahrzeuge Trunkenpolz Mattighofen".

As a post-war motorcycle, the R100 was a lightweight model with a 98cc Rotax engine and an output of 3 hp. Thanks to its low weight of around 61 kilograms, it still managed to reach a top speed of 60 km/h.

Another model, the R125, soon followed. Today, KTM is Europe's leading manufacturer of motorcycles and extremely successful in the domestic and international motorsport scene.
Value: 2.50 Euro
First day of issue: 15.02.2023
Stamp size: 42.00 x 34.80 mm
Graphic design: David Gruber
Printing: Joh. Enschedé Stamps B.V.
offset printing
Quantity: 160,000 stamps on sheets of 50 stamps