Wool hat: Winter special stamp with knit pattern
18.01.2022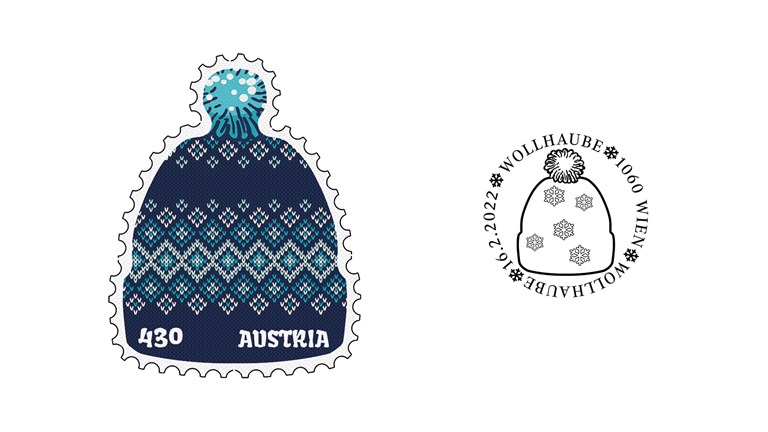 They say there is no bad weather, just inadequate clothing. With a warm wool hat, nothing will keep you from going on a walk outside even on cold days.

While our "mitten" miniature sheet published early in the winter was all about protecting the fingers, this miniature sheet focuses on protecting the head. An uncovered head loses a lot of body heat, which can quickly get quite uncomfortable and can lead to a cold. However, this is easy to prevent by protecting your head with a hat. Whether it's a pom-pom beanie, a simple knit cap with or without a cuff or a unique hand-knitted hat, the important thing is that it will keep the head and ears warm.

Our self-adhesive "wool hat" miniature sheet is something truly special. It is made from flocked paper with a winter knit pattern and has been punched to create the typical form of a hat with a pom-pom.
Value: 4.30 Euro
First day of issue: 16.02.2022
Stamp size: 36.50 x 47.00 mm
Graphic design: David Gruber
Printing: Cartor Security Printing
offset printing
Quantity: 150,000 stamps on sheets of 1 stamp