Figurative painting from Austria - "Branch" by Martin Schnur
06.07.2021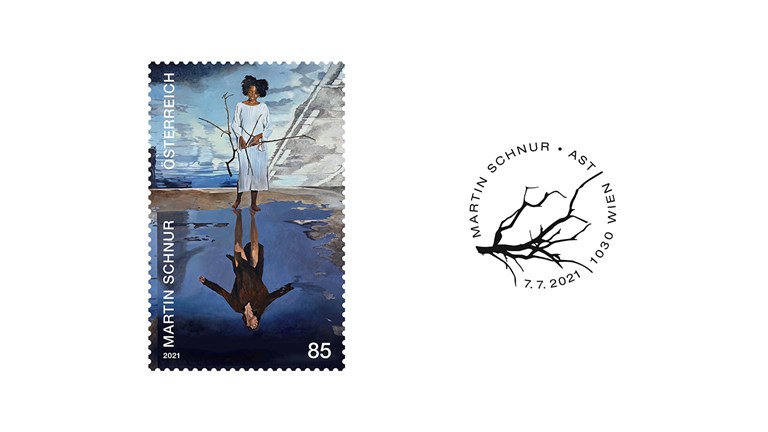 The artwork "Branch" by Martin Schnur shows his characteristic play with reflections and the fusion of dream and reality. Who is reflected here is not necessarily the person who should be reflected.
The artist Martin Schnur, born in 1964 in Vorau, Styria, is one of the most important
representatives of figurative painting in Austria. In his artworks, he creates collage-like picturein- picture scenes, in which various levels of space and reality merge into one an-other. Martin Schnur paints not only on large canvases, as in the work "Branch" shown here, but also smaller pictures on copper.
Martin Schnur studied sculpture at the School of Applied Arts in Graz and at the Academy of Fine Arts in Vienna. Despite his training, he soon came to painting. Already in his early work, the question of how to capture light, reflection and mood on a two-dimensional canvas was in the foreground. Today he lives and works in Vienna.
The commemorative stamp "Martin Schnur - Ast, 2020" from the "Contemporary Art in Austria" series will be issued with a circulation of 350,000 stamps in sheets of 50. With a face value of EUR 0.85, it will be available from July 7 at all post offices, at post.at/onlineshop and from Österreichische Post AG's Collector Service.
series: Contemporary Art in Austria
value: 0.85 Euro
first day of issue: 07.07.2021
stamp size: 31.80 x 50.00
graphic design: Regina Simon
printing: Joh. Enschedé Stamps B. V.
offset printing
quantity: 350,000 stamps on sheets of 50 stamps