A wine variety typical for the region
07.05.2021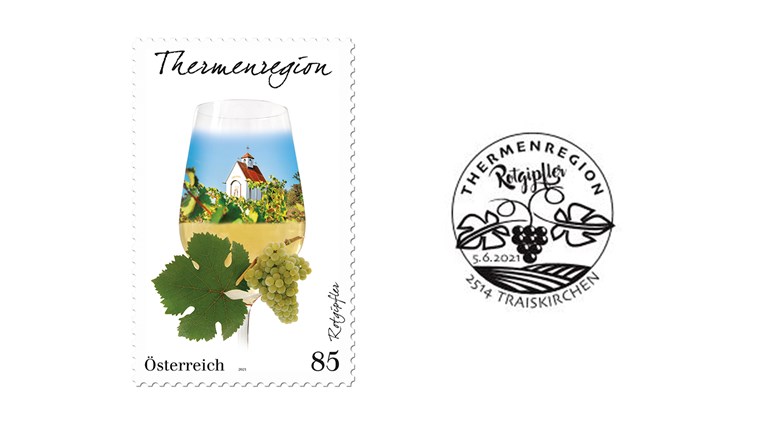 In the "Austrian wine regions" series, this time it is the Thermenregion in Lower Austria that is the focus. A typical wine from this region is the Rotgipfler, which almost exclusively hails from there.

With its more than 2,000 hectares of wine-growing land, the Thermenregion stretches from the city limits of Vienna to the area south of Baden. The vines benefit from the protection offered by the Vienna Woods and the influence of the dry Pannonian climate. In the south of the region, red wines such as Saint-Laurent or Pinot Noir are produced, while further north, around Gumpoldskirchen, we find white wines, with the indigenous varieties Zierfandler and Rotgipfler dominating. The warm southern aspect and the calcareous soil provide perfect conditions for the Rotgipfler. It is a natural cross between Traminer and Roter Veltliner and owes its name to the reddish-coloured tips to its shoots. The golden-yellow wine is rich in extracts with a pleasant acidity and a delicately spicy bouquet that calls to mind ripe pome fruits and exotic fruits such as mangoes.

Another well-known wine-producing location from the Thermenregion is Traiskirchen. This is home to the "Mandelhöh", one of the best-known vineyards in the region. And it is on the Mandelhöhe, the highest elevation in this municipality, that the winegrowers' association had the Urbanuskapelle (Urbanus Chapel) built in 1989. It is dedicated to St. Urban, the patron saint of viticulture, and the design was based on the coat of arms of Traiskirchen from 1514. From the little chapel, which is now the symbol of Traiskirchen, you get a beautiful view over the vineyards.
series: Weinregionen Österreichs
value: 0.85 Euro
first day of issue: 05.06.2021
stamp size: 31.80 x 50.00 mm
graphic design: David Gruber
printing: Joh. Enschedé Stamps B. V.
offset printing
quantity: 360,000 stamps on mini sheets of 10 stamps