Adriana Czernin – Untitled, 2004
03.03.2021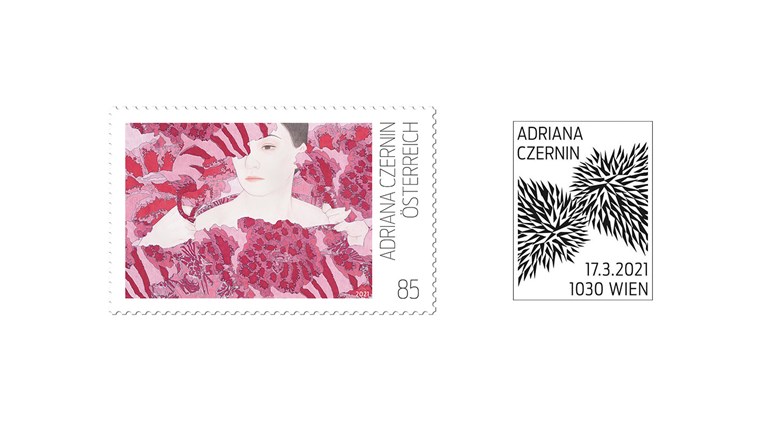 Ornaments and art

Ornaments play an important part in Adriana Czernin's work. As part of its "Young art in Austria" series, Austrian Post is featuring one of her works on a special stamp.

Adriana Czernin was born in 1969 in Sofia in Bulgaria but has lived and worked in Vienna and Rettenegg in Styria since 1990. Her earlier, mostly large-format graphite and coloured-pencil drawings used a delicate colour palette, frequently employing shades of red and pink. They often show the face and body of the artist embedded in floral patterns and lattice-like structures. Executed with meticulous attention to detail, the drawings appear almost three-dimensional, with the background and clothing blending seamlessly into one another. The stamp shows the work "Untitled" from the year 2004, executed in graphite and coloured pencils on paper in a size of 45 by 62.5 centimetres. The artist is represented by the Galerie Martin Janda in Vienna, where her works are regularly exhibited.

In her current works, Adriana Czernin has turned her attention from floral ornaments to geometric ones, not only as a form, but also as a metaphor for cultural and social relationships. Using a combination of construction and deconstruction, she explores the various aspects of the ornament, its functions and its rules. Strong colours, black and shades of grey as well as clear forms dominate this series of works.
series: Junge Kunst in Österreich
value: 0.85 Euro
first day of issue: 17.03.2021
stamp size: 40.00 x 25.50 mm
graphic design: Regina Simon
printing: Joh. Enschedé Stamps B. V.
printing
quantity: 317,000 stamps on sheets of 50 stamps