Hurdling, pole vaulting, and javelin throwing
17.04.2023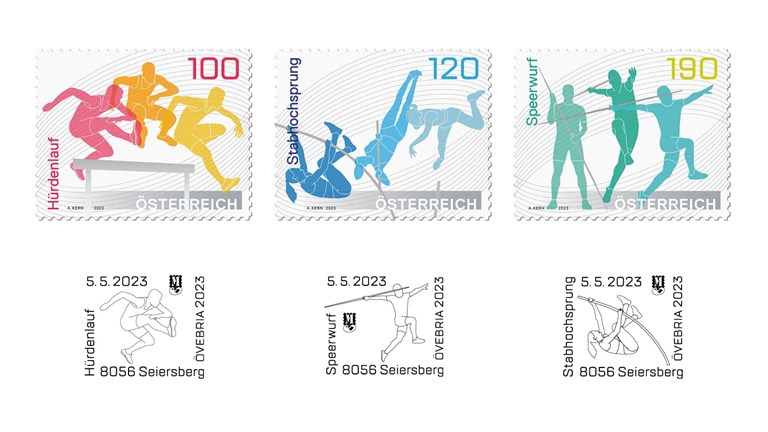 Our new commemorative stamp series called "Sport in motion" revolves around sport. The first three stamps in this series shine a spotlight on athletics.

Athletics is divided into three categories: running, jumping, and throwing. For each category, we are issuing one stamp with striking illustrations of one discipline's impressive sequence of movements. In hurdling, ten hurdles are set up at fixed intervals over a distance of 100 metres (110 metres for men) or 400 metres; indoor races include five hurdles over a distance of 60 metres. The hurdles are not jumped over, but run over, so the correct stride rhythm and technique are essential. An odd sequence of steps between the hurdles ensures that the same swing leg is always used. Hurdling is also part of the men's decathlon and the women's heptathlon.

Pole vaulting is considered one of the most difficult disciplines in athletics. With the help of a flexible pole, athletes jump over a bar at the chosen height. This requires a complex sequence of movements: after a quick run-up, the pole is inserted into the vaulting pit and the athlete, using the energy of the bending pole, catapults him/herself feet first into the air. When crossing the bar – with the legs in front and the stomach down – the bar must not fall down.

For the throwing discipline, we chose javelin throwing. Javelins have always been used as weapons of war and hunting. As early as in the Ancient Olympic Games, javelin throwing was a pentathlon discipline. Today, it is part of the decathlon and heptathlon. In javelin throwing, the javelin, which is nowadays made of wood, metal, carbon, or an alloy, is thrown as far as possible after a short run-up; the scratch line must not be crossed. The javelin must land in the throwing area, but not get stuck in the ground.
Hurdling

Value: 1.00 Euro
First day of issue: 05.05.2023
Stamp size: 40.00 x 32.50 mm
Graphic design: Anita Kern
Printing: Joh. Enschedé Stamps B.V.
offset printing
Quantity: 200,000 stamps on sheets of 50 stamps
Pole vaulting

Value: 1.20 Euro
First day of issue: 05.05.2023
Stamp size: 40.00 x 32.50 mm
Graphic design: Anita Kern
Printing: Joh. Enschedé Stamps B.V.
offset printing
Quantity: 190,000 stamps on sheets of 50 stamps
Javelin throwing

Value: 1.90 Euro
First day of issue: 05.05.2023
Stamp size: 40.00 x 32.50 mm
Graphic design: Anita Kern
Printing: Joh. Enschedé Stamps B.V.
offset printing
Quantity: 130,000 stamps on sheets of 50 stamps