Special stamp for Christmas: Girl at Window with Lantern
24.11.2021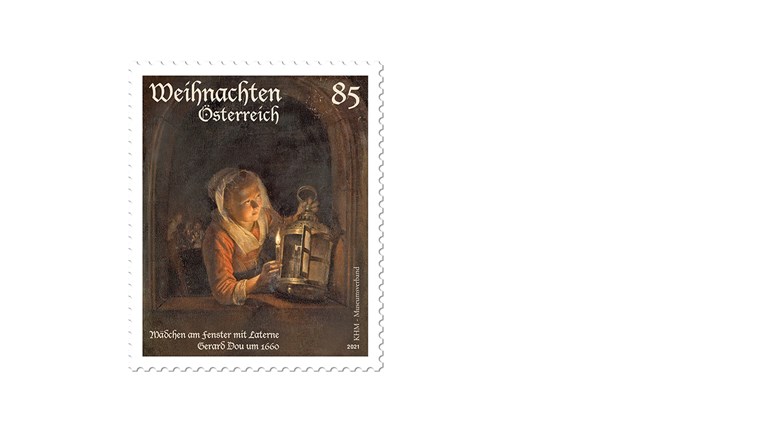 This stamp features a painting by Gerard Dou and is an example of his masterful use of candlelight for atmosphere. Through this technique, the three card-playing ladies in the background next to the girl at the window are barely noticeable.

The artist, who grew up in Leiden in the Netherlands, is considered a co-founder of "Leiden school of fine painting". Before he became a student in Rembrandt's workshop, he learned glass painting from his father. The painting shown here, made in the Baroque period shortly before 1660, demonstrates what Gerard Dou became famous for: Meticulous, detailed depictions, everyday subjects and dark scenes. The only light source is usually a candle or lantern, which strongly characterizes the atmospheric images and makes them perfect Christmas motifs.

This panel painting was executed on oak wood and is quite small, with a size of 25.5 by 21 centimeters. It belongs to the collection of the Kunsthistorisches Museum in Vienna, where two other works by Gerard Duo can be admired. Already during his lifetime his works achieved top prices. He is therefore one of the highest paid painters in Holland of the Golden Age.

The Christmas-themed stamp will be issued from November 26 with a circulation of 2,250,000 on rolls of 50 stamps with a face value of 0.85 EUR per stamp. Available at all post offices, at post.at/onlineshop and from Österreichische Post AG's Collector Service.
value: 0.85 Euro
first day of issue: 26.11.2021
stamp size: 32.00 x 39.00 mm
graphic design: Regina Simon
printing: Joh. Enschedé Stamps B. V.
quantity: a circulation of 2,250,000 on rolls of 50 stamps