"100 Years of Burgenland" - a commemorative stamp to mark the anniversary of Aus-tria's youngest federal state
29.09.2021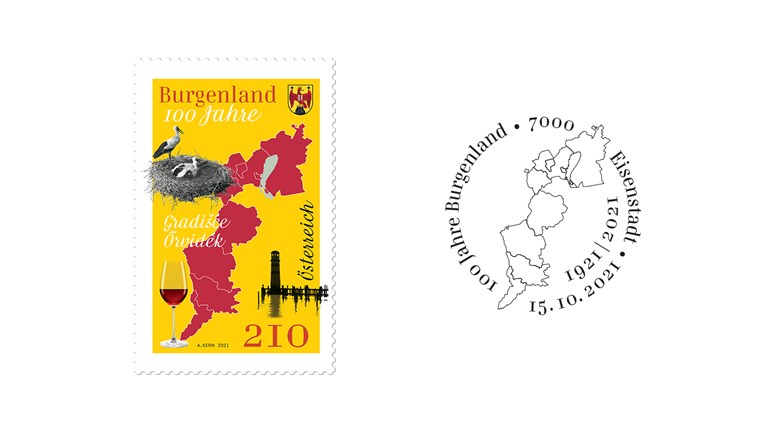 Burgenland became part of the Republic of Austria in 1921. The Austrian Post service celebrates the 100th anniversary of affiliation with a commemorative stamp showing a stork's nest, a glass of red wine and the Podersdorf lighthouse.

In the upper right corner, you can see the national coat of arms, in the background the outline of the youngest federal state. Inscribed on it are "Gradišće" and "Őrvidék" - the name Burgenland in the language of the minority ethnic groups of Burgenland Croats and Hungarians. The four former administrative districts of Pressburg (Bratislava), Wieselburg (Moson), Ödenburg (Sopron) and Eisenburg (Vas) each have an "-burg" ("castle") in their names. Although none of these cities is part of the province anymore, the name Burgenland was derived from them and has been preserved. These elements are surrounded by motifs typical of the country: a glass of red wine, the lighthouse in Podersdorf on Lake Neusiedl and a stork's nest, as known from the free city of Rust.

The history of the annexation to Austria was marked by political decisions. After the end of the Austro-Hungarian Monarchy, the newly formed republic wanted to absorb the German-speaking areas in western Hungary. This was stipulated in the Treaty of St. Germain in 1919. But not until 1921 was Burgenland anchored in the Federal Constitutional Law as an "independent and equal province in the Federation." After that, however, turbulent months followed: In Ödenburg (Sopron), the majority of the population voted in a referendum to remain part of Hungary after all. Bad Sauerbrunn then became the provisional seat of the provincial government, and Eisenstadt has been the provincial capital since 1925.

With a circulation of 120,000 stamps in sheets of 50, the stamps with a face value of 2.10 EUR will be available at all post offices, at post.at/onlineshop and from Österreichische Post AG's Collector Service starting on October 15.
value: 2.10 Euro
first day of issue: 15.10.2021
stamp size: 29.00 x 45.00 mm
graphic design: Anita Kern
printing: Joh. Enschedé Stamps B. V.
offset printing
quantity: 120,000 stamps on sheets of 4 stamps