Series "Postage Stamps of the Monarchy" from 1905 - without varnish stripes
29.09.2021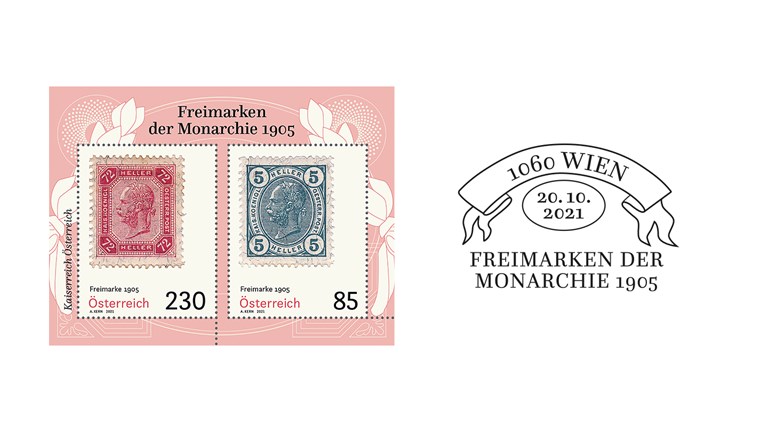 The stamp block includes stamps with face value 72 and 5 Heller. The motif shows the head of Emperor Franz Joseph in profile to the left in an oval or square frame with four value fields.

Due to poor legibility, new postage stamps were issued in 1904/1905. The pink 72 heller stamp was a new addition. The crown values, on the other hand, were not reissued. From 1901, in contrast to the 1899 postage stamp issue, the fiber paper was provided with varnish stripes. This was to prevent used stamps from being reused. It also made it easier to detect any removal of the
postmark. This, however, had a negative effect on the legibility of the value imprints. For this reason, they were printed without varnish stripes again from 1905. To improve legibility, in the new issue of 1904/1905, the value numerals were printed in color or black in a white field, with white numerals on a colored background for values of 35 Heller and above. The perforations were also different. The postage stamps remained valid until October 31, 1908.
The postage stamps of the monarchy with a face value of 3.15 EUR and a circulation of 115,000 stamps in blocks of two will be available for purchase at all post offices, at post.at/onlineshop and at Österreichische Post AG's Collector Service starting on October 20.
value: 3.15 Euro
first day of issue: 24.09.2021
stamp size: 42.00 x 33.35 mm
graphic design: Anita Kern
printing: Joh. Enschedé Stamps B. V.
offset printing
quantity: 115,000 stamps on sheets of 2 stamps