2022 Day of Stamps
22.08.2022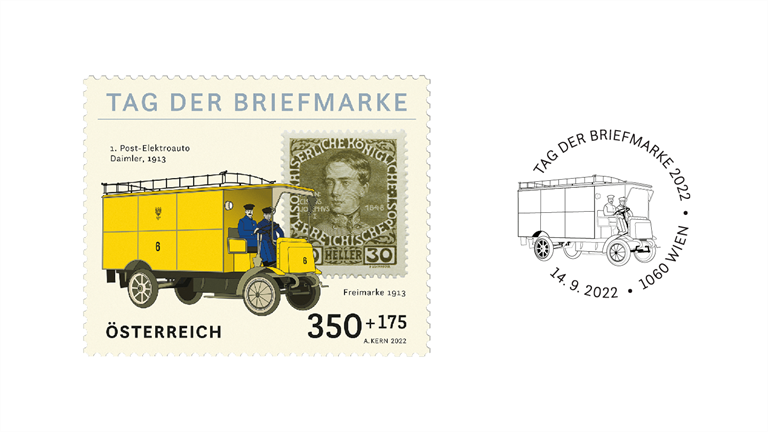 Österreichische Post is committed to sustainable mobility – in the years to come, this commitment will be reflected by the stamps chosen for the Day of Stamps.

From the very beginning, Österreichische Post was a pioneer in the use of electric commercial vehicles for delivery and distribution services. In a publication dated 20 June 1913, the Central Council for the Imperial and Royal Austrian Postal, Telephone and Telegraph Services, reported that 29 electric vehicles had been put into service, as described in an article entitled "Introduction of electric vehicles in the Vienna postal service".

The postage stamp shown here was also issued in the same year, printed in letterpress on ordinary paper without watermark. It shows a portrait of Emperor Francis Joseph from 1848, which is the year he became emperor. This series of postage stamps designed by Koloman Moser was issued from 1908 onwards on the occasion of the 60th anniversary of Francis Joseph's accession to the throne.
Value: 3.50 Euro + 1.75 Euro Zuschlag
First day of issue: 14.09.2022
Stamp size: 42.00 x 33.35 mm
Graphic design: Anita Kern
Printing: Joh. Enschedé Stamps B.V.
offset printing
Quantity: 132,000 stamps on sheets of 6 stamps