Festive conclusion of the series "100 Years VÖPh"
25.08.2021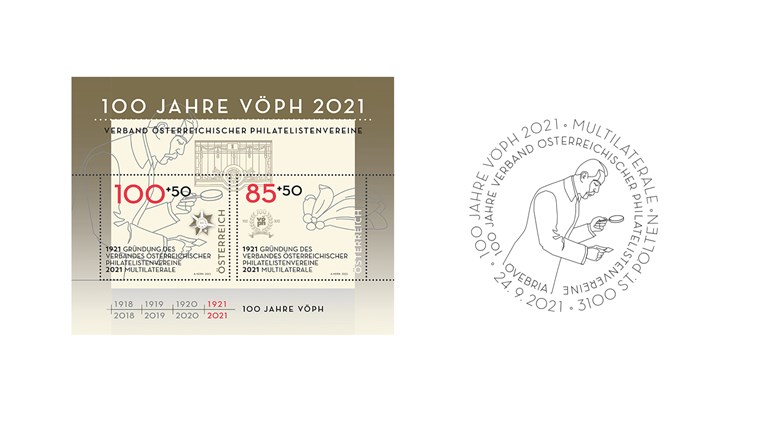 The stamp block shows illustrations of the historic entrance gate at the present headquarters of the VÖPh on the Getreidemarkt in Vienna. One stamp shows an ornament from this entrance area, the other a stamp collector.
On March 9, 1921, the formal founding ceremony of the Federation of Austrian Philatelic Societies (VÖPh) took place. With about 8500 members from more than 200 clubs, sections, swap centers and working groups, the VÖPh has grown considerably since its foundation and continues to attach great importance to the support of its members. The four-part series celebrating the association's 100th birthday is concluded with the publication of the new stamps.
The special stamp block consists of two stamps showing different sections of an illustration by Anita Kern. The logo of the "Multilaterale" Stamp Exhibition can be seen in the left section, the anniversary logo of the VÖPh in the right part of the stamp block. This year's "Multilaterale" stamp exhibition will be held in St. Pölten from September 24 to 26 to mark the 100th anniversary of the VÖPh.
The stamp block with a face value of 1.85 EUR + 1 EUR will be issued in an edition of 100,000 blocks of two and will be available at all post offices, at post.at/onlineshop and at Österreichische Post AG's Collector Service from 24 September.
series: 100 years VÖPh
value: 1.85 + 1.00 Euro
first day of issue: 24.09.2021
stamp size: 40.00 x 32.00 mm
sheet size: 100.00 x 80.00 mm
graphic design: Anita Kern
printing: Joh. Enschedé Stamps B. V.
offset printing
quantity: 100,000 stamps on sheets of 2 stamps