Stamp Day 2021 - for the 100th anniversary of VÖPh
25.08.2021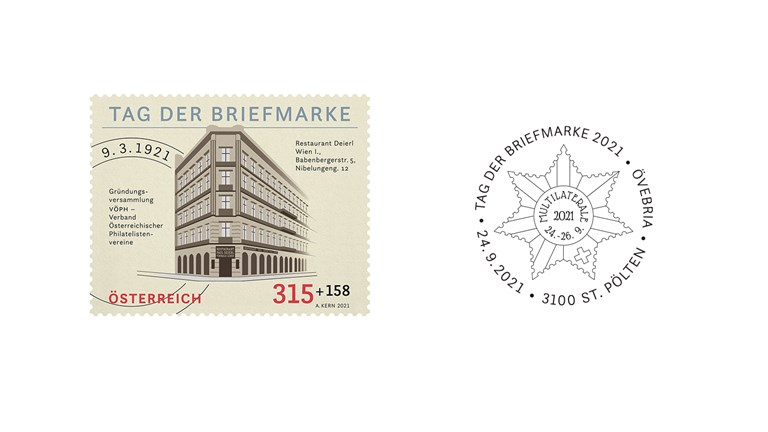 The stamp shows the restaurant Paul Deierl in Vienna, where the founding meeting of the VÖPh took place on March 9, 1921. On the edge of the miniature sheet, you can see values for Stamp Day of the last 60 years.
The Federation of Austrian Philatelic Societies (VÖPh) was founded 100 years ago by some 20 representatives from different philatelic societies. Since then, the VÖPh has acted as an umbrella organization for all Austrian stamp collecting societies. The value honors the restaurant in which the founding of the association was decided in 1921.
Today, an oriental restaurant is located on this very spot, at the corner of Babenbergerstraße and Nibelungengasse in Vienna's first district. Today, the VÖPh has its headquarters opposite the Secession, at Getreidemarkt 1. To mark Stamp Day and to honor the VÖPh, the stamp sheet also shows the coat of arms of Vienna, where the association was founded, and the coat of arms of St. Pölten, where the "100 Years of the VÖPh" tribute is being held as part of ÖVEBRIA and the "Multilaterale" Stamp Exhibition.
The "Stamp Day 2021" special issue stamp will be issued in mini sheets of 6 stamps with a circulation of 180,000 pieces and will be available at all post offices, at post.at/onlineshop and at Österreichische Post AG's Collector Service starting on 24 September.
value: 3.15 + 1.58 Euro
first day of issue: 24.09.2021
stamp size: 42.00 x 33.35 mm
graphic design: Anita Kern
printing: Joh. Enschedé Stamps B. V.
combination printing
quantity: 180,000 stamps on mini sheets of 6 stamps