Save 50% on personalised stamps
15.11.2022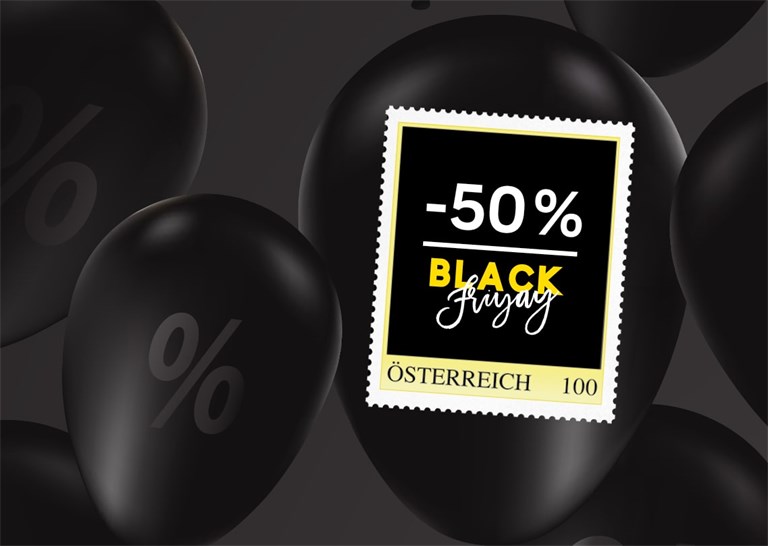 Bring joy, make a strong first impression, stand out from the crowd – you can do all that by affixing personalised, self-designed stamps to envelopes or postcards. The MEINE MARKE personalised stamps service by Austrian Post makes it a breeze.

Use our amazing Black Friyay offer! With the coupon code 1) BlackFriyay90, you will get 50% off MEINE MARKE 48 personalised stamps from 25 November to 2 December 2022. For 20 personalised self-designed stamps with your own images, you will pay only EUR 24 instead of EUR 48.

Just follow these easy steps:
Go to post.at/meinemarke on your laptop or computer and select MEINE MARKE 48
Upload your own image
Enter the coupon code1) BlackFriyay90
Submit your order to receive 20 unique stamps
Whether you use your stamps to bring joy during Christmastime, attract attention to your business, or order them now for next year's wedding, anniversary, or christening: your unique stamps created with our MEINE MARKE personalised stamps service are sure to leave a lasting impression!
Redeem your coupon code1) BlackFriyay90 anytime from 25 November to 2 December here: post.at/meinemarke

1) The EUR 24 discount is valid for our product MEINE MARKE 48 and can be redeemed once per person and order. Valid from 25 November to 2 December 2022. The discount will be applied directly to the price. No cash payments. This offer cannot be combined with other vouchers and offers. For more information, please visit post.at/meinemarke