Sweet and sour delicacies to enjoy
23.03.2021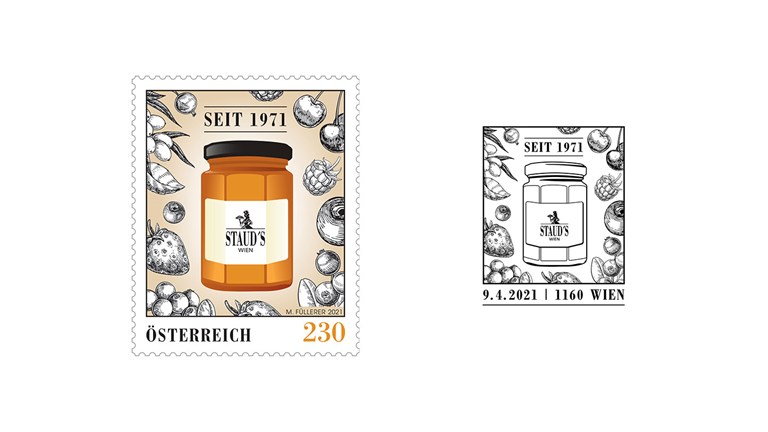 Nowadays STAUD'S fine sweet and delicately sour products can be enjoyed around the world. The stamp from the "Classical trademarks" series is congratulating the traditional Viennese company on its 50th anniversary.

It all started in 1883 with a fruit and vegetable wholesaler's at the Brunnenmarkt in Vienna's 16th district Ottakring. In 1971 Hans Staud founded the company STAUD'S Wien and began preserving fruit and vegetables and creating new delicatessen products. Careful and respectful treatment of people and nature is part of the company's philosophy, but it is always open to innovation. Now known as "STAUD'S Pavillon", the original fruit stall at the traditional Brunnenmarkt in Ottakring is a popular meeting place for gourmets.

50 years ago it was apricot compote and pickled gherkins; nowadays the company produces more than 230 varieties of sweet and lightly pickled delicatessen products, which are then bottled in the characteristic octagonal jars – from classic jams, organic fruit spreads and compotes via wine jellies, stewed fruits and chutney through to delicately pickled vegetables such as gherkins, asparagus or peppers. Production still takes place in the STAUD'S factory in the Hubergasse in Ottakring, where traditional crafts have long been combined with the most up-to-date technology. Where possible the selected fruit and vegetables varieties are sourced in Austria, otherwise from wherever they grow best.
series: Klassische Markenzeichen
value: 2.30 Euro
first day of issue: 09.04.2021
stamp size: 32.50 x 40.00
graphic design: Marion Füllerer
printing: Joh. Enschedé Stamps B. V.
offset printing
quantity: 280,000 stamps on sheets of 50 stamps