Gräf & Stift SP 8 Pullman
08.01.2021
Luxury on four wheels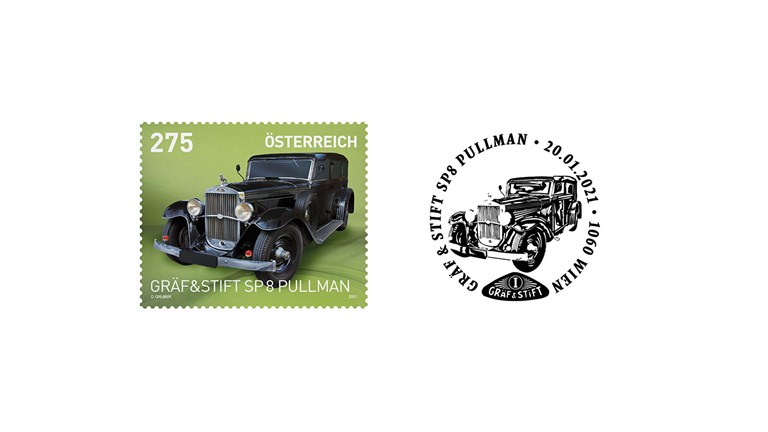 The SP 8 is a luxurious 1930s car made by the Austrian car makers Gräf & Stift. The stamp from the "Cars" series shows a Pullman saloon car from 1930.
In 1896 three brothers by the name of Gräf founded a car workshop in Vienna, producing their first car a year later. In 1901 Wilhelm Stift joined the company as an investor, which was henceforth known as Gräf & Stift. The radiator was topped by a standing lion, reminiscent of the figures on Vienna's Schemerl Bridge. Gräf & Stift mainly produced large saloon cars – such as the vehicle in which the heir to the throne Franz Ferdinand and his wife were shot in 1914 – and buses, but later added commercial vehicles to their range. In 1971 the company was bought by the Österreichische Automobil Fabriks-AG, and subsequently traded as ÖAF-Gräf & Stift AG, before ultimately being taken over by the MAN group.
Only 30 of the top-of-the-range SP 8 model were built between 1930 and 1936. It was based on the SP 5 to SP 7 series with their 6-cylinder engine. However, the six-litre straight-eight engine of the SP 8 increased the output to 120 HP and could reach speeds of up to 120 km/h. The vehicle shown on the stamp, dating from 1930, cost 52,000 Austrian Schillings in its day and was used by the director general, Dipl.-Ing. Josef Gräf. It survived the war in pieces at the works, with only the interior needing to be replaced in 1948. In 2005 the "Verein zur Förderung der historischen Fahrzeuge der Österreichischen Automobilfabriken" acquired the vehicle.