2023 Day of Stamps
17.04.2023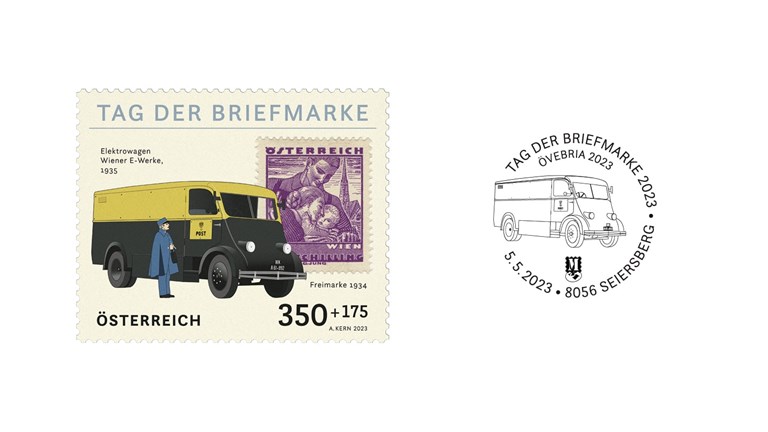 As in the past, the theme of the commemorative stamp for the Day of Stamps is electric mobility at Austrian Post.

This time the focus is on the use of electric postal vehicles in the interwar period. The stamp features an electric vehicle in trial use for parcel delivery by Austrian Post. The Gräf & Stift vehicle from around 1935 was presumably made by Vienna E-Werke; these modern new electric vehicles were charged with cheap night-time electricity.

The definitive stamp depicted on the commemorative stamp dates from about the same time and is part of the 1934/36 "Austrian traditional dress" series designed by Georg Jung, also known as the "First tradition dress series". The 1 schilling motif shows a Viennese family in front of St. Stephen's Cathedral in Vienna, the other schilling motifs represent the army, agriculture, and crafts. The 16 groschen stamps of the series feature Austrian traditional dress.
Value: 3.50 Euro + Zuschlag 1.75 Euro
First day of issue: 05.05.2023
Stamp size: 42.00 x 33.35 mm
Graphic design: Anita Kern
Printing: Joh. Enschedé Stamps B.V.
offset printing
Quantity: 165,000 stamps on miniature sheets of 6 stamps