The Republic's parks
03.05.2021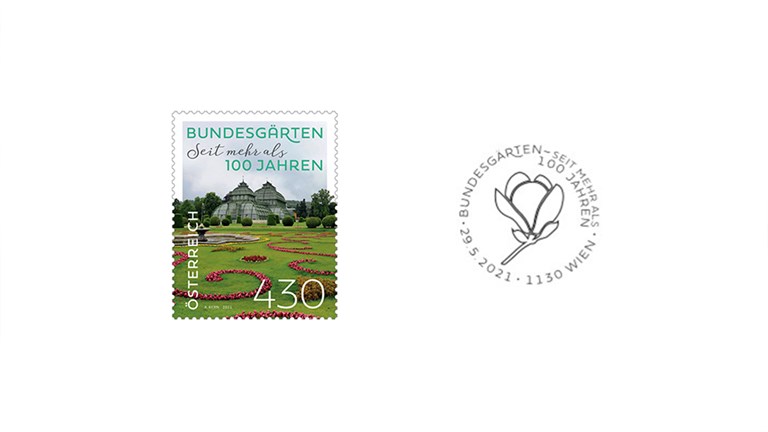 A scented lacquer adds a luxurious and very special touch to this commemorative stamp: if you rub the stamp, it will smell like flowers.

Austria's Federal Gardens include seven historic and protected gardens and parks, which makes them popular tourist destinations and important public areas of leisure. Since the end of the Habsburg monarchy, the former imperial gardens have belonged to the Republic of Austria. They include Schönbrunn Palace park, Augarten park, the Belvedere gardens, Burggarten park and Volksgarten park (including Heldenplatz square and Maria Theresa square) in Vienna as well as the Innsbruck Hofgarten park and the Ambras Palace park in Tyrol.

Augarten park is the oldest remaining Baroque park in Vienna, it dates back to the 17th and 18th centuries. Belvedere Palace was built for Prince Eugen around 1700 and includes the Alpine Garden, the Belvedere Botanical Garden, and Privy Park. Volksgarten park was created at the initiative of Emperor Franz I for the general population while Burggarten park used to be the Emperor's private garden. Today, both are highly popular urban parks used for leisure activities. The same is true for the Innsbruck Hofgarten park. Ambras Palace and its park go back to the renaissance period. Schönbrunn Palace park, which has been open to the public since 1779, is home to the Desert House, the Orangery, the Privy Garden, and the Palm House built in 1882. It is featured on the commemorative stamp and used to be the world's largest glass structure.
value: 4.30 Euro
first day of issue: 29.05.2021
stamp size: 33,35 x 42,00 mm
graphic design: Anita Kern
printing: Joh. Enschedé Stamps B. V.
offset printing, scented coating
quantity: 212.000 stamps on sheets of 50 stamps