Quality made in Vienna
03.05.2021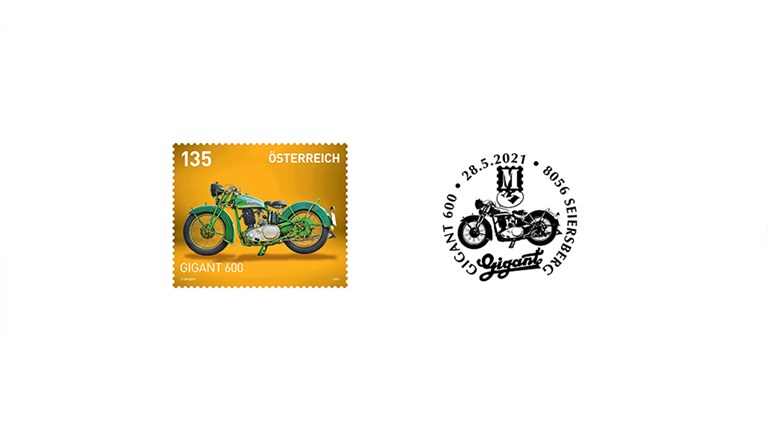 This year's stamp in the "Motorcycles" series features a 1938 model by Gigant, which is a true rarity from this little-known Viennese company.

In 1931, Johann Teichert and his brother opened a mechanic shop in Holochergasse street in Vienna. These two brothers had gained subject-matter expertise working at Delta Gnom and LAG, respectively. The capitalised on this expertise to start building their own motorcycles in 1936: motorcycles by Gigant were regarded as solidly designed and built. They did not produce all parts at the Gigant workshop themselves, but used their own high-quality parts and third-party material to assemble the vehicles. In addition to their own top-quality frames, forks and brakes, they used tanks, rims and mudguards from Viennese suppliers. The engines came from JAP in England. Two models were available: the one-cylinder model, the 600 OHV, and a 750 model with a V2 side valve engine. The signature paint of Giant motorcycles ranges from light green to dark green, which is a rather unusual choice of colour.

Motorcycles by Gigant were only built from 1936 to 1938 and the looming war made it impossible to produce more. Only very few Gigant motorcycle remain to this day, one of them being the Gigant 600 OHV featured on this stamp. This motorcycle built in 1938 has a JAP motor and boasts the landmark paint and belongs to a collector in Upper Austria.
series: motorcycles
value: 1,35 Euro
first day of issue: 28.05.2021
stamp size: 42,00 x 34,80 mm
graphic design: David Gruber
printing: Joh. Enschedé Stamps B. V.
offset printing
quantity: 360.000 stamps on sheets of 50 stamps