Inspired by nature
03.05.2021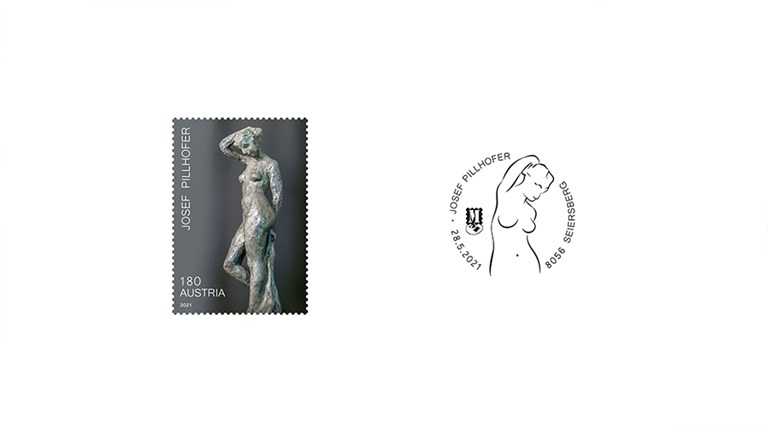 Josef Pillhofer was one of the preeminent Austrian sculptors and draftsmen of the post-war area. Österreichische Post is issuing a commemorative stamp to honour his 100th birthday.

Born in 1921 in Vienna, Josef Pillhofer was raised in Mürzzuschlag/Styria. From 1938 to 1941, he studied at the Graz School of Arts. After the end of the war, he studied at the Academy of Fine Arts Vienna under professor Fritz Wotruba. In 1950, he studied with Ossip Zadkine, Constantin Brancusi, and Henri Laurens in Paris. In 1954 and 1956, he participated in the Venice Biennale. From 1954 to 1970, Josef Pillhofer taught at the Academy of Fine Arts Vienna and then had a masterclass at the Graz School of Arts until 1981. From 1972 to 1974, he was a full professor for artistic design at the Graz Technical University. In 2008, the "Pillhofer Sculpture Hall" was inaugurated in Neuburg an der Mürz where his works are on permanent display. The venue is also used for theatre and concert performances. Josef Pillhofer died in Vienna in 2010.

Josef Pillhofer's art always revolved around the human body. In addition to creating realistic depictions, his works made of stone, wood, clay, bronze and metal also sought to break down complexities and explored the abstraction and reduction of forms to geometrical elements. The artwork featured on the stamp, "Woman bathing", is a 72-centimetre sculpture made of gypsum and bronze created in 1982.
series: Modern Art in Austria
value: 1.80 Euro
first day of issue: 28.05.2021
stamp size: 34,50 x 50,00 mm
graphic design: Regina Simon
printing: Joh. Enschedé Stamps B. V.
offset printing, scented coating
quantity: 135.000 stamps on sheets of 50 stamps