A historic trading place
03.05.2021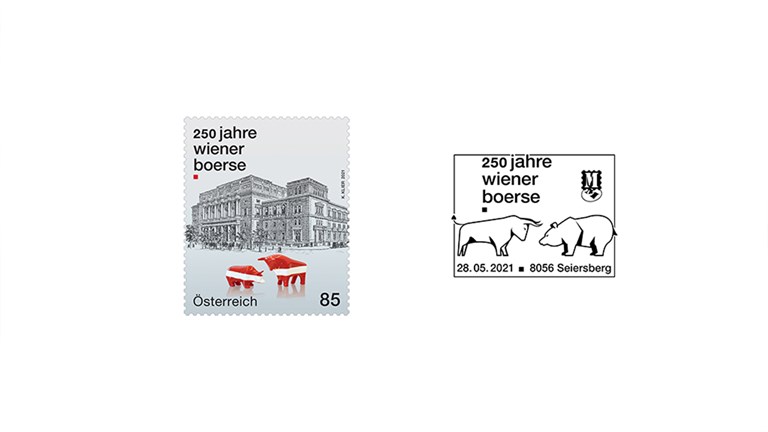 The Vienna Stock Exchange is one of the oldest securities exchanges in the world. This year, it celebrates its 250th anniversary. Österreichische Post celebrates this occasion with a commemorative stamp that features the historic building located at Schottenring.

The Vienna Stock Exchange was founded in 1771 by Maria Theresa. Initially, only bonds, bills of exchange and foreign currencies were traded. In 1818, the Austrian National Bank was the first public company to get listed on the Vienna Stock Exchange. The liberal economic policy of that time favoured even shaky incorporations and the speculation frenzy finally culminated in the Vienna Stock Exchange Crash of 1873.

The building was designed by Theophil Hansen and opened in 1877 at Vienna Schottenring. Parts of the building were destroyed during a devastating fire in 1956. In the 1980s, the Stock Exchange saw an important boom. In 1991, the ATX (Austrian Traded Index) was introduced as an index of reference; it tracks the 20 major stocks. For more than 20 years, Wiener Börse AG has been headquartered at Caprara-Geymüller Palace in Vienna's historic city center. As a modern, customer and market-oriented infrastructure company, it runs the stock exchanges of Vienna and Prague. International trading partners account for most of the trading volume. The stock exchange was and remains the main trading place for determining the price of securities, which creates trust and transparency.
value: 0,85 Euro
first day of issue: 28.05.2021
stamp size: 34,80 x 42,00 mm
graphic design: Karin Klier
printing: Joh. Enschedé Stamps B. V.
offset printing
quantity: 320.000 stamps on sheets of 50 stamps