New stamps & postcards with animal and flower motifs
09.03.2023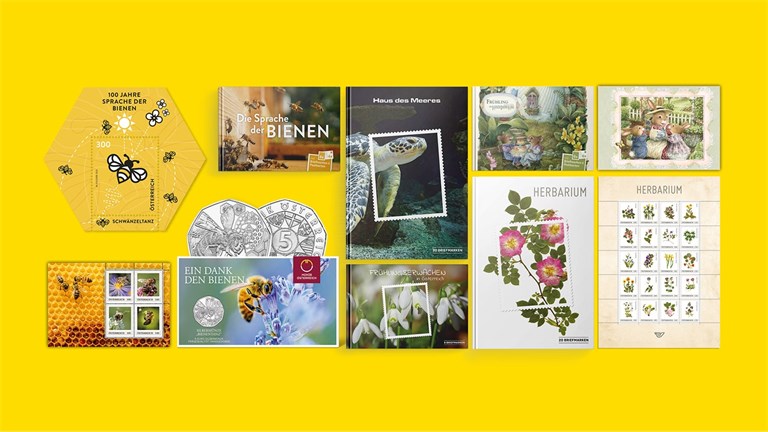 Nature is once again waking up: just in time for the start of spring, we are issuing wonderful new motifs on postcards and stamps. In addition, we are introducing a brand-new product: a postcard set with ten postcards with short stories and six stamps dedicated to the colourful theme of "The power of flowers".
Some of our other products also focus on flowers, such as the Stamp Edition 20 "Herbarium", the Stamp Edition 4 "Flowers" and the Stamp Edition 8 "Spring awakening in Austria".
We also have a special focus on those highly useful pollinators of flowers: industrious bees. 100 years ago, the Austrian zoologist and behavioural scientist Karl von Frisch conducted elaborate studies to prove that bees use the so-called bee dance to share information about food sources.
To mark this anniversary, we are issuing the strikingly beautiful special miniature sheet "100 years of 'The Language of Bees'" in the shape of a honeycomb. In addition, the postcard booklet "The Language of Bees" with four postcards and four stamps will delight the hearts and eyes of honeybee enthusiasts. The new silver coin "Easter 2023 – bee dance" also matches the theme.
Last but not least, our postcard booklet "Spring on Holly Pond Hill" is usually very popular among collectors. For all those who have a heart for animals, the postcard booklet "Wild birds in Austria" and the stamp edition 20 "Haus des Meeres" are a must-have.

Postcard set "The power of flowers": Order now

Miniature sheet "100 years of 'The Language of Bees'": Order now

Postcard booklet "The Language of Bees": Order now

Postcard booklet "Spring on Holly Pond Hill": Order now

Postcard booklet "Wild birds in Austria": Order now

Stamp Edition 20, self-adhesive, "Haus des Meeres ": Order now

Stamp Edition 20 "Herbarium ": Order now