Austrian Post Cash Logistics: our products
Our network includes a total of seven central locations - Vienna, Graz, Linz, Salzburg-Wals, Hall in Tirol, Klagenfurt and Wolfurt - from where we provide cash to any destination in Austria within a day, while also taking care of transporting money to cash centres throughout Austria.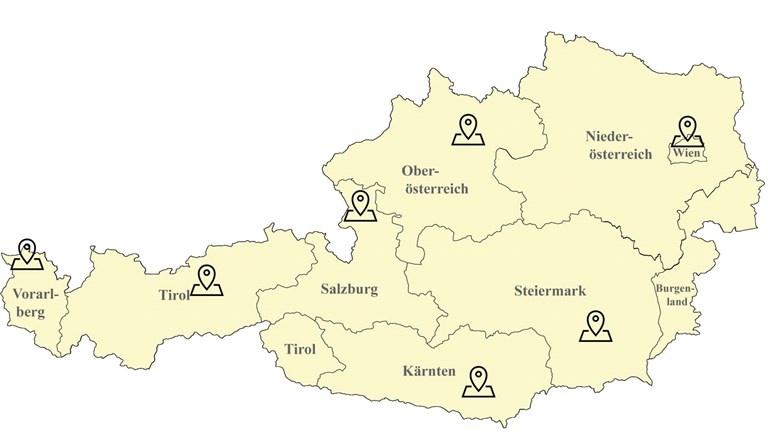 Cash logistics
Our cash logistics service is a great choice for collecting your daily receipts and managing your cash. Our service includes counting your daily receipts and transferring them to your customer account.
In addition, we take care of preparing coins and banknotes and providing change. For maximum convenience, choose from flexible or fixed delivery times. Benefit from our reliable Austria-wide service and save valuable time and resources. Our experts will be happy to help you find the solution that fits your needs like a glove.
Cash 24
Cash 24 makes digitalising the cash process for your daily receipts easy and efficient. Thanks to state-of-the-art technology, Cash 24 enables daily transfer of deposited values, easy operability at the deposit safe for multiple users, additional security and control in the entire cash process with counterfeit detection, as well as cost-efficient processing.
Cash 24 is the solution for you if you want to digitalise your cash process for your daily receipts and ultimately make it more efficient and cost-effective.
Cash machine service
Our cash machine service is a one-stop solution for your cash machines and self-service kiosks. This includes servicing, assembling and disassembling self-service terminals as well as maintenance by our highly qualified technical staff. Our innovative planning and forecasting system allows us to create an intelligent stop plan.
With our comprehensive services, clients can be sure that their self-service terminals are in excellent hands. Our next-level quality standards deliver the results you are looking for, each and every time.
Special logistics and transport
Our mission is to serve our clients with smooth, safe, and professional services and to ultimately offer the best possible logistics solutions for their business. With our special logistics service, we specialise in the storage and transport of valuable goods such as documents, certificates, tangible assets, precious metals as well as high cash volumes.
We also deliver jewellery and high-value goods to our clients' branches.
Our high-security warehouses are available as permanent and short-term storage facilities.
International partnerships and our professional security-first approach allow us to carry out complex special logistics, transport and storage solutions for very high values.
Premium insured parcels
Our premium insured parcel service is the perfect choice for anyone looking for reliable and secure shipping for their valuable items. Insured parcels are great for safely shipping precious metals, jewellery, watches, valuables and cash using packaging provided by us.

This premium service goes beyond fast collection and secure delivery to recipients and also includes special treatment for your valuables.
Trust our many years of experience shipping high-value products and enjoy the convenience of this premium service.
Alarm centre
Our alarm centre offers maximum security for your company and high-quality security consulting in collaboration with our long-term partners. Trust our 24/7 security operation centre to have your branch, warehouse, or business monitored around the clock.

Our alarm centre gives you the peace of mind of knowing that you are getting the best possible security services for your locations.