Research
Facts, figures, information, and common sense
While plenty of information is readily available, it takes time to analyse it. Oftentimes, an outside perspective can help.
We will be happy to provide information that will help you find answers to the most pressing questions.
Geomarketing
Visualise your statistical location-related data to make the right decisions. Analyse the catchment area of your branches or your customer distribution. Our experts will assist you with location analyses and will help you optimise your leaflets.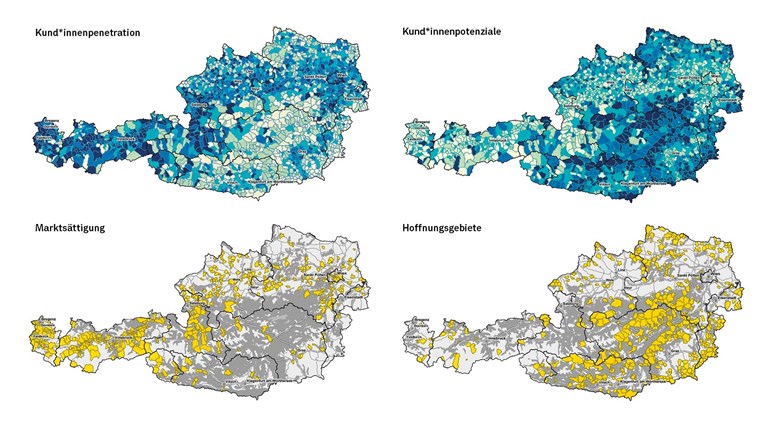 Advertising effectiveness research
Who can remember your advertising?
And what kind of advertising do consumers actually remember?
What channels can meet expectations?
See for yourself how effective individual channels are and create the basis for objective and performance-oriented media planning.
Customer insights
You have defined your target audience. But do you know who your clients are?
Analyse your client addresses to be on the safe side. You might also be in for a surprise.
What target audience segments can be defined? What other potential for differentiation exists?
How should you weight your budgets for targeted client acquisition?


Our penetration analysis will give you a detailed overview about the geographic and sociodemographic distribution of your existing clients. We will also provide tables and in-depth analyses of your client data to help you take your market potential to the next level.
Since we want to know what is important to our clients, we periodically commission studies and surveys about advertising and communications. Results are expertly prepared and made available free of charge.
As dialogue marketing experts, we use all available means to provide answers to key questions. The following are questions that always arise when we think about our clients' clients: How is the market defined? How does the industry work? What turns people into clients?
Contact us
If you have any questions about our products or if you would like to receive a non-binding quote, don't hesitate to get in touch with us.
Go to contact form