Increase your print mailings' success rate
Especially when costs increase, the pressure of using every opportunity for improving an advertising activity's performance rises.

Benefit from our address check service to lower your printing and postage costs by avoiding pricey undeliverable items.

Benefit from other businesses' success stories and use easy methods to increase the response rate for your print mailing campaigns.

Does this sound interesting to you? We look forward to assisting you.
Print consulting & producing
Even in times of digitalisation, millions of consumers appreciate advertising in the mail as a source of information.

Producing flyers, catalogues, or direct mailing items takes time, expertise, and a budget. Our clients like reducing their own workload and hiring experts. We will take full responsibility for your marketing material, from the receipt of print data and addresses all the way to delivery. We will identify error potential and help avoid or correct it. As a postal service, we know about the benefits and options available at printing facilities and lettershops. We know who can provide perfect and timely service as well as value for money for every project.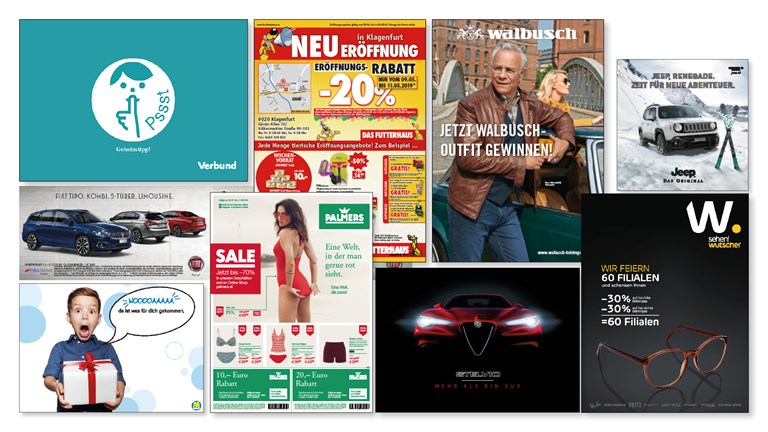 Whether you are looking for the best price for a leaflet or an innovative technical concept for your sampling: just try us!
Do you want ideas that will increase the response rate for your direct mailing campaign? We will be happy to assist you.
Do you not want to worry whether your advertising material reaches your client in time? Let us take care of it.
Whether they are SMEs or international corporations, our clients appreciate our dedication and benefit from our ample experience.
Six times more service for you
Do you need a card, a letter, a self-mailer or a 3D mailing campaign? Whatever it is, the idea must be in line with the specifications.
Since we do not focus on a single service provider or special equipment, we can objectively recommend that concept that fits your needs.
We will provide a wide range of tips and hints for you to use.
What savings potential does your address file have? How can you significantly increase the response rate without too much effort?
Our collaboration with our business partners relies on trust and satisfaction.
We deliberately forgo long-term agreements and keep all our options open for the benefit of our clients.
Oftentimes, deadlines are just as important as the price. Especially the delivery deadline must be kept at all costs, even when the print data were sent a little later than planned.
Whenever that happens, it is very good to know that we assign many print jobs per year, which is why our business partners grant us maximum flexibility.
All you have to do is provide the ready-to-print data and addresses and we will take care of all the rest. Upon request, we can check your addresses for duplicates and undeliverable addresses, which will help you reduce costs and increase your response rate.
Do you know what our clients really appreciate? They love the fact that they can keep their workload for the production of mailing campaigns to a minimum. Whether you need an individual marketing activity or a one-year programme, our team of experts will be happy to help.
Contact us
If you have any questions about our products or if you would like to receive a non-binding quote, don't hesitate to get in touch with us.
Go to contact form