The Investor Story of Austrian Post
Reliability and predictability are the foundation stone of Austrian Post's investment story. This reliability and predictability are reflected in the form of dividends. Austrian Post has been publicly traded on the Vienna Stock Exchange since May 2006 and has shown an impressive track record. Even in challenging times, the company has always delivered on the promise of its investment story.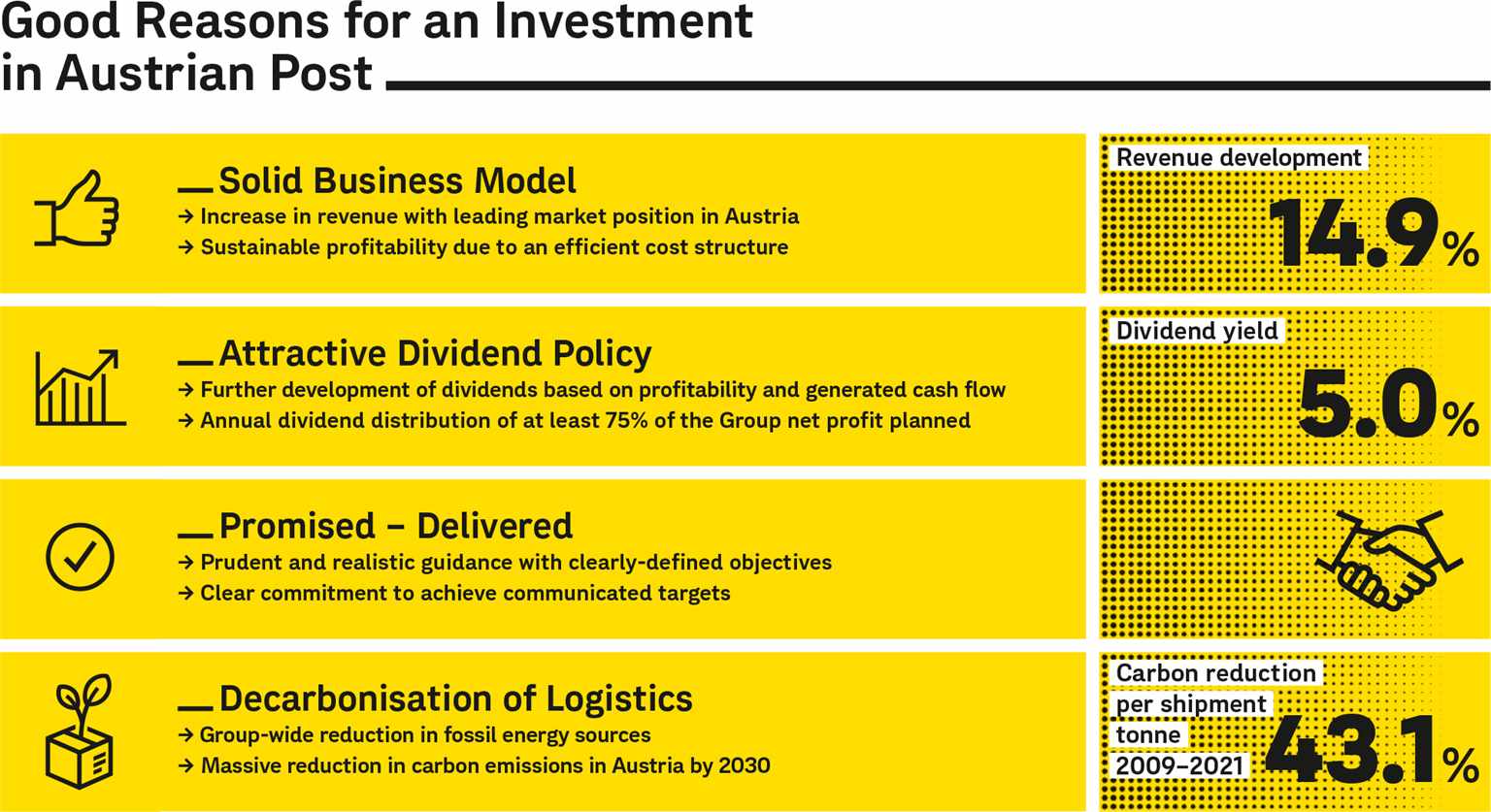 Austrian Post is operating in a market environment that is subject to constant dynamic change. This was already the case before the outbreak of COVID-19 and two years dominated by the pandemic have only served to reinforce this process of change. This is why we always have to critically question our own business model and adapt it if need be. For years, digitalisation has been the driving force behind the transformation of the postal and logistics market, a trend that is both a challenge and a considerable opportunity. The opportunity aspect in particular was once again clearly confirmed by COVID-19. The challenge lies in the ongoing trend towards e-substitution and the associated drop in the letter mail business. At the same time, the strong increase in e-commerce is driving growth in the parcel business. As a result of the pandemic, entire new groups within the population have made online shopping part of their day-to-day lives. Globalisation, consolidation and competition are further trends that are having an impact on Austrian Post's business model. The issue of sustainability has become fundamentally more important in recent years, a trend that has picked up considerable speed over the past one to two years. This makes it absolutely crucial for Austrian Post, as a state-of-the-art postal company, to act sustainably in order to meet the expectations of its employees, customers and stakeholders alike. In order to take account of these trends and at the same time make greater use of the opportunities and challenges arising in our corporate environment, Austrian Post's previously implemented strategy was updated in 2020.
The strategy rests on three cornerstones that share a common core, with sustainability, diversity and customer orientation as the overarching guidelines:
Defending Market Leadership and Profitability in the Core Business
Austrian Post is the market leader in the domestic letter mail, direct mail and parcel business. Its business strategy is designed to enable the company to maintain this strong position and expand its leadership, particularly with respect to parcel delivery. In addition to ensuring profitability, Austrian Post keeps its focus on high-quality, sustainable service.


Profitable Growth in Near Markets
In addition to its core business, Austrian Post is pursuing a growth strategy that focuses on nearby markets. The term "nearby" is to be understood both regionally and in terms of the business model. Growth opportunities that are classed as being nearby in geographical terms include the South East and Eastern European region, with a particular emphasis on the parcel business.


Development of Retail and Digital Offerings for Private Customers and SMEs
Austrian Post is striving to use its nationwide branch network, along with its strength among private customers and SMEs, to expand and develop new physical and digital business models. Within the branch network, physical services are increasingly being digitalised or supplemented. bank99, Austrian Post's bank, is the logical next step in the development of Austrian Post's traditional range of financial services. The take-over of ING's retail banking business in Austria served to create an even broader foundation for bank99. shöpping.at sees itself as "the" Austrian marketplace for Austrian retailers and – also driven by the COVID-19 pandemic – was able to achieve further growth.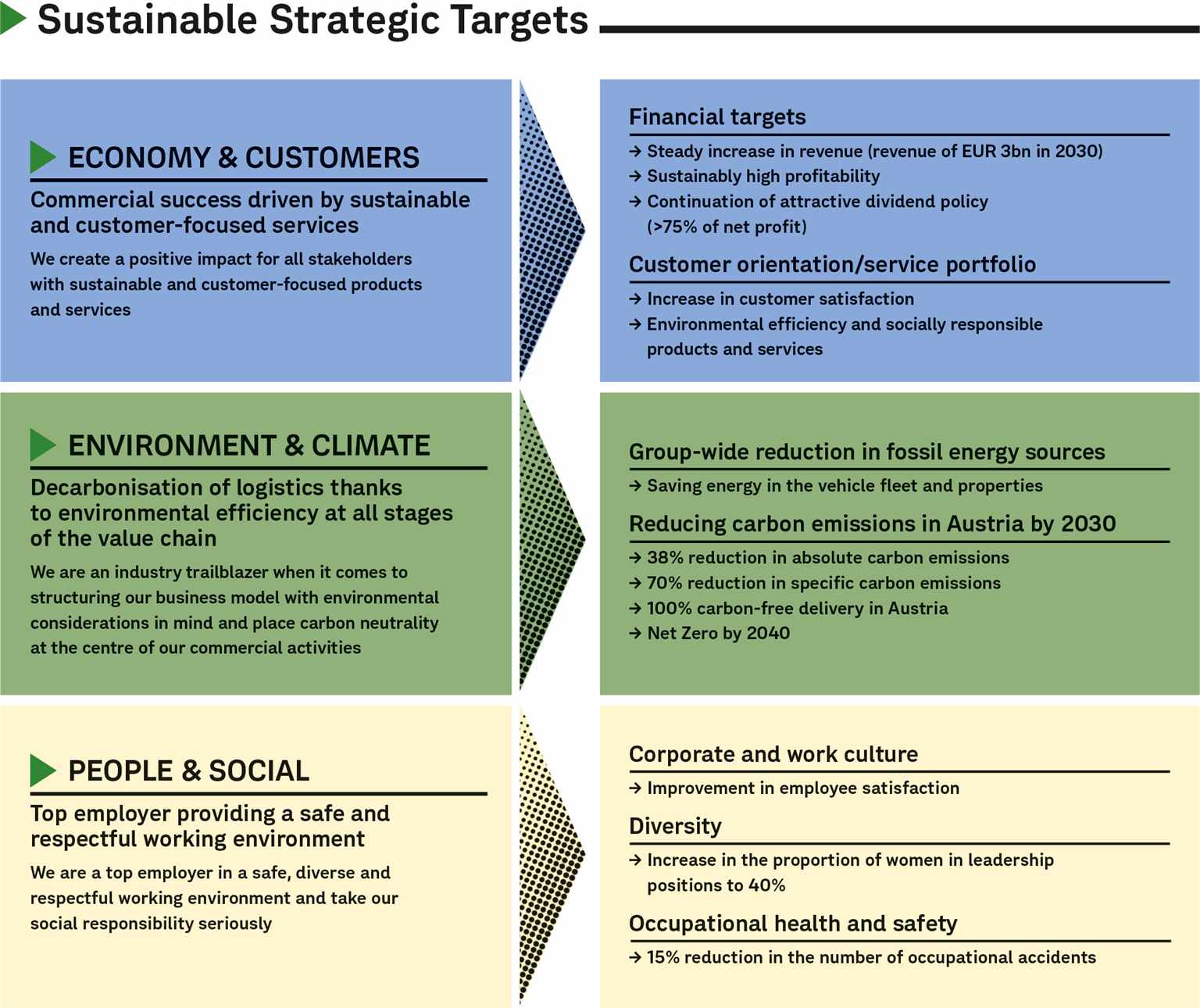 Market environment
Economic environment in 2022 characterised by inflation and restrained consumer behaviour
Entrenchment of inflation due to shortages of raw materials and retail goods as well as higher staff costs
Forecast under the condition that energy and gas supply is provided
Revenue
Revenue targeted for 2022 as close as possible to that of the previous year (2021 revenue: EUR 2.5bn)

Letter Mail business characterised by declining volumes and inflation-based postage rate adjustments (increase of Economy rates as of 1 July 2022 and Priority rates as of 1 October 2022)
Development of the parcel business in Austria and CEE/SEE should stabilise in H2 following H1 decrease from the high level of 2021; parcel business in Turkey is negatively impacted by inflation and exchange rates (decline in EUR)
Increasing revenue in the Retail & Bank Division following acquisition of ING's retail business

Investments
Investment programme (capacity expansion and transition to CO2-free delivery) remains a top priority as in previous years
Maintenance CAPEX of about EUR 100m and growth CAPEX of approx. EUR 80m in 2022 provided availability of vehicles and construction services


Earnings
Uncertainties remain, e.g. energy market/gas supply/economic development
2022 EBIT expected to be in the range between 2021 (EUR 205m) and 2020 (EUR 161m)
Ambition remains to get as close as possible to the 2021 earnings level