EUROPE 2023 – Peace
17.04.2023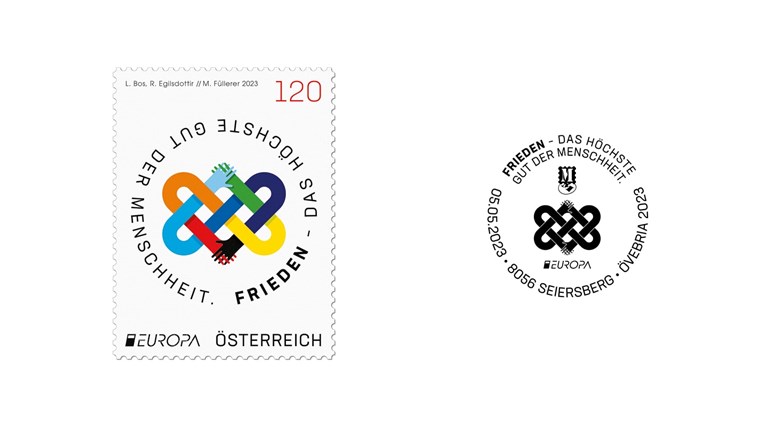 "Peace – the highest value of humanity" is the motto of this year's EUROPA stamp – a theme that this year is more topical than ever.

Since 1956, EUROPA stamps have been issued with a common motif or Europe-related theme. For 30 years, PostEurop has been the responsible organisation for issuing these stamps. In a design competition in which ideas from many countries were submitted, the design now executed by Post Luxembourg was chosen as the winner.

The design is by Linda Bos and Runa Egilsdottir (A Designers' Collective), who see it as a new peace sign uniting all nations, a metaphor for a cooperative society in which people appreciate each other's culture. It is inspired by the "Celtic Love Knot" of two intertwined hearts, the intertwined fingers symbolising mutual respect, the colours the different nations. Based on this motif, all European postal services had the option to design their own stamps.
Value: 1.20 Euro
First day of issue: 05.05.2023
Stamp size: 30.00 x 40.00 mm
Graphic design: Marion Füllerer
Printing: Joh. Enschedé Stamps B.V.
offset printing
Quantity: 190,000 stamps on sheets of 50 stamps